Bidding farewel to the principal of DAV girls school
Ms. Lalitha Chandrasehkaran, Former Principal, D.A.V Girls Senior Secondary School, had retired from the services of the school recently.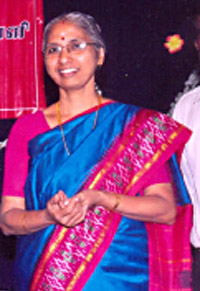 Tears rolled off the cheeks of D.A.V. students on the day of her retirement. She has bagged the 'BEST PRINCIPAL AWARD' and has also won the 'BEST SCHOOL AWARD' for D.A.V. Girls Senior Secondary School, Gopalapuram.
She had been the principal for the past 15-years and has taught all her students moral values along with academics. She has been an epitome of discipline, cheerfulness and simplicity.
A Chemistry teacher by profession, Smt. Lalitha Chandrasehkaran has taught the students many a valuable lessons, guided them in the time of obstacles and has been with them in their glee moments.
"Lalitha ma'm is very humble, encouraging and very simple. When she was the Principal, the hidden talents and potentials of all students were tapped out and recognized. She was very understanding too. I miss her a lot", said T.Harini, a student of class IX from D.A.V.
The School Prefect said, "Lalitha ma'm has always remained an embodiment of integrity and simplicity. She ended every assembly with an important message. She has been a perfect role model for all of us. Really very sad to miss her."
Under her leadership, she has carried D.A.V'S glory to great heights. Wherever she goes, she has carved an unsurpassable niche in the hearts of all the D.A.V students.