Chennai Kids Directory launched
Want to enroll for a hobby class and do not know where and who conducts it? Here comes a handy guide for the young people of Chennai.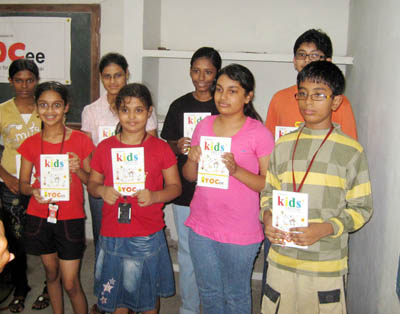 The Chennai kids directory is like 'yellow pages' for us kids. It contains information on all the activities and classes for kids which we can sign up for as hobbies and after school activities.
The book was released on April 2, The Children's Club, Mylapore.
The guest of honour for this day was Lata Lakshminarayanan, a child motivator and transform trainer. She spoke a little about what she did in her childhood days and also on how to find more things to get involved, so that kids spend less time watching TV. Also she spoke on the importance of extracurricular activities for a child's overall development.
The first copies were received by the student reporters of YOCee; a couple of them were presented on the occasion. Copies were also given to those who helped YOCee in this project.
Later Dr. Lalitha Ramakrishna, a researcher and developer of mythological games exhibited a few of her work and explained the the benefits such games when children play them.
The directory contains information of hobby classes in Chennai from sports like tennis and football to other activities like archery, theatre, aeromodelling among many others. It is a book which every family can use to full extent and soon every parent will be begging for one!
Contact YOCee at editor@yocee.in if you need a copy.
---