Creative Xplorers contest – Nov. 6, 2011
Here is an opportunity for you to win and make a lesser privileged child also win.
One cause. Many Connections is an event put together by Vedika, a group of individuals working to empower the needy children.
Under this event, many contests on various skills are hosted for children in the age group of 6 to 15 years, categorised into three groups. (6 to 9 years, 10 to 12 years and 13 to 15 years) on Nov. 6, 2011 and P.S. Hr. Sec. School campus in Mylapore.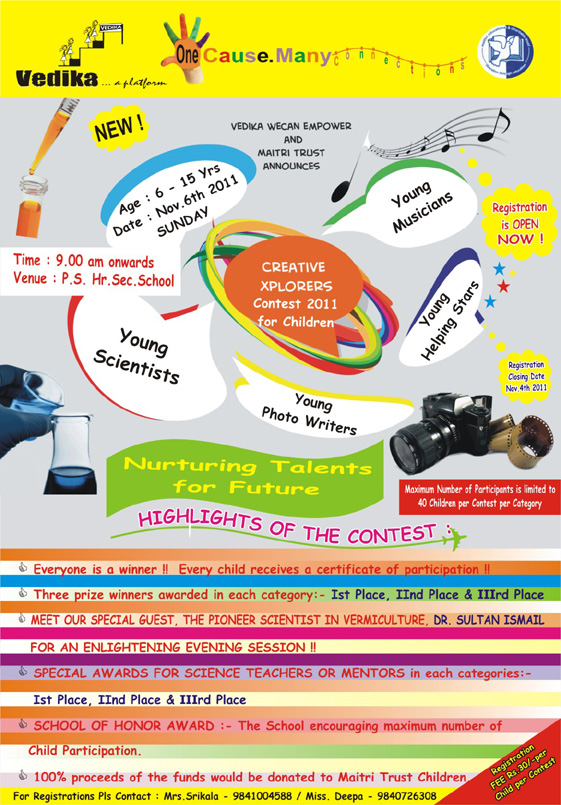 If you are a talented kid in music, science and photography, register for the contest.
For all the age groups in the music contest the rule is – only classical songs (geetham, varnam or keerthanam or bhajan) are permitted and strictly no film songs.
Children of 13 to 15 years can click a photo and join the Photo Writing contest. The themes are Eyes see you, Humour, Colours of Hope and Freedom. Photos are to mailed to vedika.creativexplorers@rediffmail.com before Nov. 4, 2011.
But you need to be at the contest venue on Nov. 6, 2011 to write a few lines on your photo on the spot.
If you are a budding scientist, mail an abstract of your scientific study to vedika.creativexplorers@rediffmail.com before Nov. 4, 2011 on any of the following topics:
(For 10 to 12 years) Health & Food Scinces, Biological sciences. Environmental sciences.
(For 13 to 15 years) Environmental Sciences, Biological, Bio-chemical & Bio-technological sciences.
Registration fee is Rs. 30 per participant. All the proceeds will be donated to Maitri Trust Children, who are from economically weak family background.
Last date to register for the contests – Nov. 4, 2011
Need more information? Contact Ms. Srikala on phone number 98410 04588 or Ms. Deepa on 98407 26308
Look up the flyer here…