Founder's birthday at Sri Ramakrishna Mutt
The 145th Birthday Tithipuja of Sri Ramakrishnananda, founder of Sri Ramakrishna Mutt, Chennai, brother-disciple of Swami Vivekananda was celebrated with special pujas at the Ramakrishna Math, Mylapore on August 10, 2007.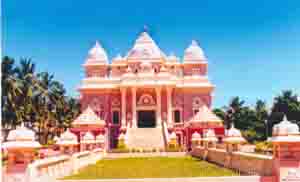 The Math was built in the year 1897,the year when Swami Vivekananda came to Chennai.The math has completed 200 years of service.
The day began with Aarthi and Bhajans at 5 am and went on with the Temple Pradakshina, a special Puja with Vishnu Sahasranama Chanting and a Homa.
Prasadams of Laddus and fruit salad were distributed. Annadanams or free lunch was offered to the poor on the occasion.
A CD on Sri Sarada Devi was released. The movie was shown at the Old Auditorium of the temple at 1.00 pm. After the show, a melodious Devotional Music by the young artists of Brhaddhvani, Chennai followed at Swami Ramakrishnananda Hall. The Kumkum Archana took place in th evening.
At 7 pm, discourses were given by Swami Abhiramananda in Tamil and by Swami Gautamananda in English. Heavy discount on the Mutt's books was offered at the old temple. Stalls were put up at the math where cassettes, CD's and books on Bhagwad Gita, Spiritualism and Personality Development were sold.
---