Hands of Crafts
The fingers that created a prize winning craft piece are now typing on the computer keyboard, which came as a prize for the craft item.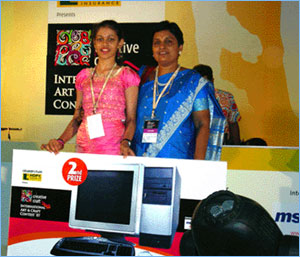 S.Varsha of class 8 studying in P.S.Sr.Sec.School, Mylapore won this prize in the recently held international arts and crafts competition conducted by Pidilite Industries.
This competition was held in four levels. She was selected at the school level and went on to participate in the competition held at the city level.
She received the first prize in the city for her creation of 'Imaginary Disney World'.
And then came the zonal level and she got the first prize there too. From this level she was selected for the finals, which was held in Mumbai.
Pidilite Industries provided the air tickets to Mumbai for Varsha and her art teacher from the school, Shylaja Vinod. They were also provided free accommodation, food and transport.
On the competition day, the participants were given the topic 'Modern Village' and were provided with craft material like crepe paper, clay, toothpicks, paint, and all that they needed to make their craft piece. Students from different countries like Dubai, Nepal and Bangladesh also participated in the competition.
On the same day evening, Varsha received the pleasant surprise of winning a prize!
It was a HP series computer. There were prizes to her teacher too!
Varsha says, "It was a great experience and I enjoyed creating the craft item."
The prize distribution function was conducted in a grand manner attended by various dignitaries.
"There was laser show, and light music show by the Indian icons Pooja Chatterjee and Imaan. I enjoyed it very much." Varsha says with a smile.
This multi-talented girl is also good at drawing and painting, vocal music, dance and playing keyboard. She has also participated in numerous dance and drawing competitions and has won prizes too.
Academics are of no less interest for Varsha. She is the topper in her class and has been the recipient of the Best Student award for the past three consecutive years in her school.
---