National Seminar For Teachers held in Chennai
A National seminar for teachers on the challenges in school education was conducted by SBIOA Educational Trust on June 13 and 14, 2014.
The main aim of the seminar was to provide a platform for thoughts on quality in the field of education and voice their views to hope for improving the educational policies and decisions.
The inuagral address was presented by Padma Bhushan awardee N. Vittal IAS, former CVC, who encouraged teachers to create interest in learning and put themselves in constant learning. He further insisted that teachers should help students in skill development.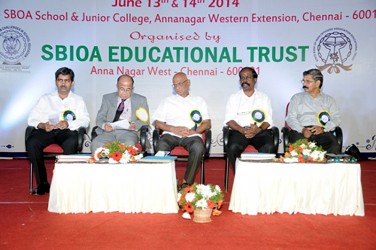 Victor Louis Anthuvan, economist, LIBA, in his keynote address called the schools to transform themselves so that the evils of the society such as poverty and child labour be removed. He also said that students must be trained in the aspect of critical thinking so that they become challenging to the teachers.
School pupil leader, Adithya Jayaprakash, a fresher in college, voiced his views magnificently on 'What school education means to a student'.  This was followed by a parent representative who spoke on what education means to a parent.
On the second day, Dr. Anita Rampal, Dept. of education, Delhi university spoke on the topic 'Turning school education around' while Dr.R.Ramanujam addressed the gathering on 'The curriculum framework and the need for change'.
Many inspirational speakers around the country were invited to the seminar and they delivered remarkable and admirable speeches.This seminar was very useful and inspirational for the teachers from all states and outstation schools in understanding the present day expectations and challenges in school education better.
---
---