Picture books on celebrated classical musicians
If you enjoy reading Amar Chitra Katha books on great personalities, here are a couple of more to add to your bookshelf.
The life history of two celebrated Carnatic musicians are now available as picture books.
'M.S. Subbulakshmi – The queen of song' and 'G.N. Balasubramaniam – Speed thrills', are part of the 'Pictures of Melody' series published by Heritage Publishing House.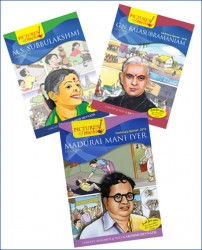 The series is the passionate effort of the author Lakshmi Devnath. Extensive research on the lives of the artistes have gone into producing these picture books, says the author.
Lakshmi Devnath has earlier authors a book for children, 'Poorva', that tells the story of the twelve azhwars or saint-poets.  The series of pictures books on the musicians is aimed at taking the art and culture to the young people.
Recently, the third in the series, Madurai Mani Iyer – the joy of song, was released. It was a centenary year special book on the musician.
The sketches are by artists
C. Thangavelu and G. Sekar.  And the sketches for the recent book are by Ajay Krishnan.
Priced at Rs.125, copies are available online at http://www.kalakendra.com