Science Project day in P. S. Sr. Sec. School, Mylapore
February 24 is a day we look forward to every year in our school. It is on this day, we celebrate Science Project Day for classes 6, 7 and 8.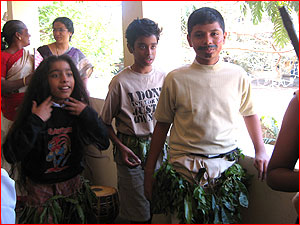 The theme given to our class this year was 'Stone Age'! We turned our classroom into a cave. To bring the atmosphere of early days, our teacher asked a few students who were very good in mimicry to record sounds, which were most probably used by the early men to communicate with each other.
It is believed that the people of the Stone Age wore the skins of animals which they hunted and whose meat they ate. It is also believed that they also wore some layers of leaves as their dresses. So we stitched the leaves of the Ashoka tree into our skirts and wore on top of our uniforms. We also had to wear a brown T-Shirt to bring an effect of that age.
The models and the charts done by our class students related to the sub-topics of stone age such as evolution of man, discovery of fire, discovery of wheel clothing, early communication.
Our teacher decided to welcome the Chief guest in a different manner and selected a set of students to welcome the guest by dancing and cheering. We also decorated the Blackboard of our classroom with paintings showing the tribals of the early times. The students also did face paintings. It was really a very great day in the school.