Story Cards in Tamil
Want to learn and read Tamil, the story way?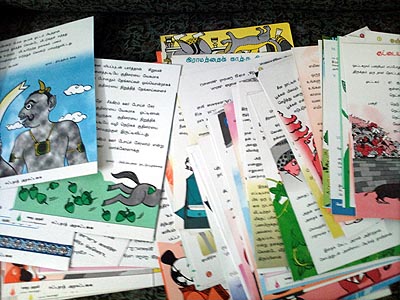 Here is a set of magical 100 Tamil story cards library in a bag – Kathai Aruvi.
The story cards were produced by Chatnath Trust to make Tamil reading attractive for children by making each story separately in a laminated card. So 100 children can read at the same time and each card can be exchanged with another 100.
The 100 cards neatly packed in a jute bag is now available with Aseema Trust. This bagful of 100 attractively illustrated (in colour) cards is available for Rs.600.
You can buy it for yourself or even sponsor a set for rural schools.
Contact Aseema by email at aseema123@yahoo.com or call Vasantha Parthasharathy at 9841009927
---
---