The Mark Of Athena
Title: The Mark Of Athena
Author: Rick Riordan
Publisher: Disney-Hyperion
Publication date: October 2, 2012
Price: Rs.399
Pages :580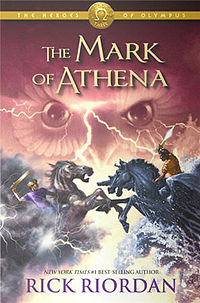 One of the most awaited book for Percy fans, The Mark Of Athena-the third installment in the Heroes Of Olympus series, delivers what it promises- adrenaline pumping action, strong characters with realistic emotions and problems and more Greek and Roman mythology that never ceases to be interesting.
The book begins with Argo-ll getting ready to land at camp Jupiter with four of the seven demigods of the prophecy –Annabeth Chase, Leo Valdez, Piper Mclean and Jason Grace already on board. As usual trouble seeks them and Percy Jackson , Hazel Leverque and Frank Zhang join the crew and set sails to ancient lands. With Gaea announcing a bounty on them, their encounter their share of monsters along with various others pursuing them. There is a great build up of expectations around Annabeth's solo quest-to follow the mark of Athena and settle a old score. In the end the quest follows frank Zhang's earlier advice to Annabeth-keep things simple. nevertheless, the book doesn't let us keep it down until we finish the last page.
The story is told from third person view alternating between Annabeth, Leo, Piper and Percy. Rick Riordan weaves the tale such that it isn't tiresome reading between the alternating point of views. There are typical Riordan laugh-out-loud moments . Additionally a glossary is supplied at the end with brief history of the mythological characters appearing in the book.
Overall, The Mark Of Athena is a delightful book for both Greek geeks and non-Greek geeks alike.