Universe, through the looking glass
The sight of stars in the night sky is a treat to the eye and it is this passion for astronomy that has helped turn star gazers into young scientists. Ancient Hindu tradition has laid emphasis on the position of stars, planets and other orbiters. Today's scientists use our ancient Vigyaniks' knowledge and expertise to construct instruments that will reach far and beyond the Universe.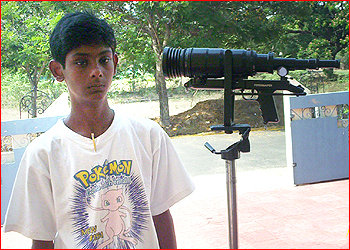 Harish Karthik is a class 10 student of Sri Sankara Senior Secondary School, Adyar. His hobbies range from stargazing to making telescopes, apart from football and reading.
He is an active member of the Tamil Nadu Astronomy Association which is an organisation headed by an octogenarian Mr. P. Devadas. At this ripe age, Mr. Devadas' passion for telescopes rubs onto anybody who meets him. With his vast experience and guidance, Harish Karthik was able to accomplish constructing his first telescope.
As the first step towards being a budding astronautic engineer, he has been making waves with his newly constructed telescope. Harish Karthik's role model however seems to be his father, who has given him full support during the project.
Harish explained how he made the instrument using a microscopic lens. With the basic principle of an objective and an eyepiece, Harish built his first telescope. Since it was a working model, it attracted many people from different fields. During the recent lunar eclipse, Harish did his bit by helping to set the telescope at the Birla Planetarium, Chennai. His ambition is to study Astronautics and make more such devices in future to unravel the mysteries of the Universe. Harish is ready to help children interested in the subject and is ready to share his knowledge.
Harish Karthik can be contacted by e-mail tskrishnamoorthy@yahoo.co.in
---