It was time for Chinmaya Vidyalaya's 'Khel Milan' – the Sports Meet. Basketball champs from each Chinmaya Vidyalaya all over India were getting ready to bring the house down.
The participants were from Coimbatore, Delhi and many teams from Kerala and Chennai.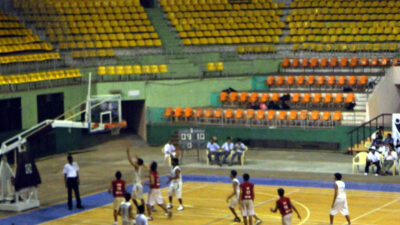 The Khel Milan 2011 was held in Chennai at the Jawaharlal Nehru Indoor stadium in Perimet on Nov. 19, 2012.
The match started at 8 am with the girls finals between CVT and CVKV.
After four years of waiting, the basketball champs of the Chinmaya Vidyalayas had their minutes to win it and they did!
The CVT (Chinmaya Vidyalaya Taylors Road-Chennai) girls brought their huge trophy home . And the CVKV (Chinmaya Vidyalaya Keraa Vaduthala) boys also won the trophy.
It was an amazing match to watch. The CVT girls left the CVKV girls with a score of 32:10. And the boys finalists were between CIRS (Coimbatore International Residential School) and CVKV and the match was won by Kerela.
After sheer hard work and practice the champs walked out of the stadium with their heads held high!