Mayuri Srivaths from the US presents park concert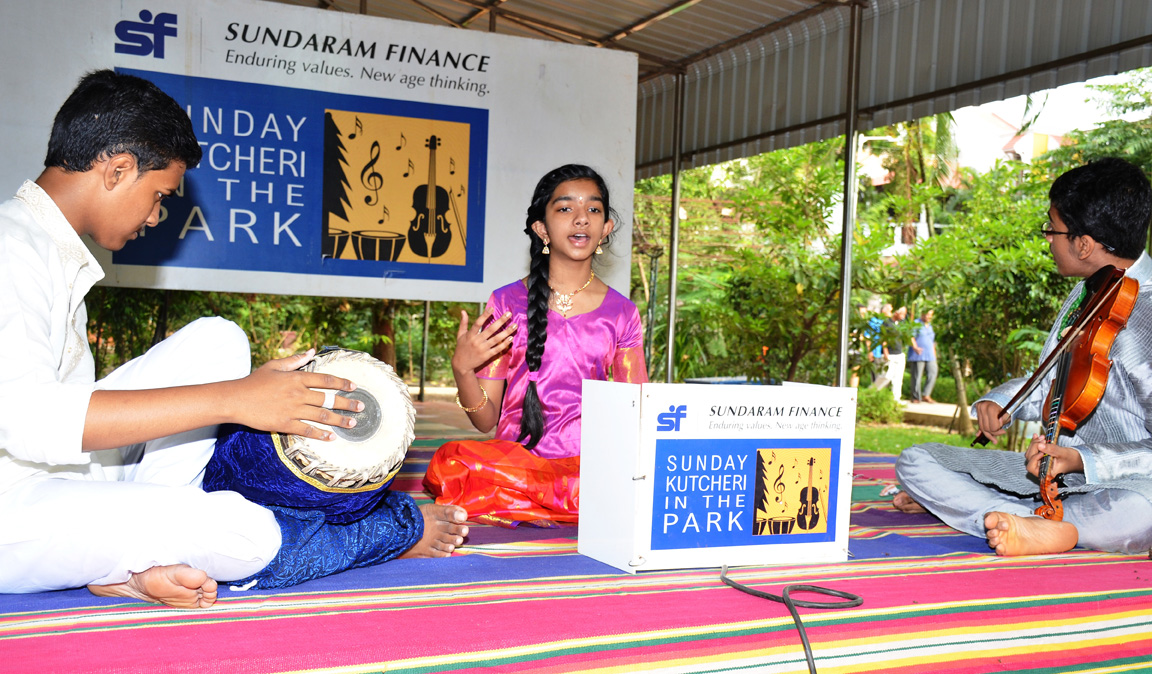 As part of the monthly Sunday Kutcheri in the Park organised by Sundaram Finance, 12-year-old Mayuri Srivaths, a class VII student of Nolan Ryan Junior High School, Pearland, Texas, USA presented a vocal Carnatic music concert at the Nageswara Rao Park in Mylapore on July 2, 2017. The mikeless concert was held from 6.30 a.m to 7.30 a.m.
Mayuri Srivaths is learning music from guru Rajarajeshwary Bhat. In the Sunday concert, Vibhu Ravindran (Disciple of Lalgudi Srimathi Brahmanandam)  on the violin and A Rohith (Disciple of Thiruvarur Bakthavathsalam) on the mridangam accompanied her.
A big Sunday morning walkers and listeners had gathered around the Chess Square for Mayuri'sconcert. She presented compositions of the Carnatic music trinity and of other famed composers like Papanasam Sivan and Neelakanta Sivan. She received huge applause in appreciation of her performance.
R Nataraj, Mylapore MLA who was present at this concert had warm words for Sundaram Finance, the organiser of the monthly concerts at Nageswara Rao Park over 11 years now. He said, "The Mikeless Kutcheri concept seems to be liked much by the artistes and the audience. I am very happy to see people turning up in such large numbers on this Sunday morning to appreciate this young artiste from the US."
He also complimented Sundaram Finance for maintaining the park well for 15 years. "They have made it a 'Model' Park, one of the best in the city," he said while making it public that he discussed many developmental initiatives with the company that morning. Later Mr. Nataraj presented certificates and mementoes to the artistes.
Since 2006, the Sunday Kutcheri in the Park has provided opportunities to young talents below 15 years of age to present in front of an informal park audience amidst chirping birds and falling leaves. Children from the US, Dubai and the Middle East have also presented concerts in the park.
When YOCee's student reporters get busy, the team at YOCee's small office takes up the role of the reporters, does the rounds and files reports.
---