A summer camp was conducted by Smart Kids on May 9, 2015 in T. Nagar. The camp was been started by Mrs. Rajalakshmi Sundaresan in 2008 and has its way into the seventh year. The students experienced that the summer camp was alluring rather than sitting at home watching TV.
During interaction session the students show how much they love Science and they were explaining about their ambition to become a scientist. This science camp focused mainly on six experiments which were conducted by Rajalakshmi.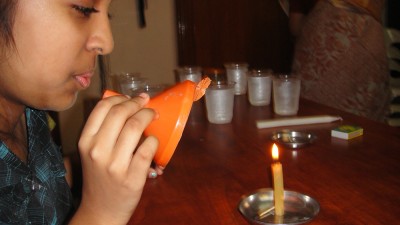 Processes of imbibitions, each and every student were interested to see the inference of their experiment. They listened to the tutor's guidance and did on their own. The kids carried out their individual experiments. Bending pencil and coin reappearance looked like a magic. But after doing it they learn the Science behind it.
Hanging bottle is a different concept but through this she teaches us to know how we should be tight in mind to achieve our goal. Candle in the wind is very funny and enjoyable. Ice in the water wonders how the water doesn't flow.
The students have the benefit of doing these experiments. Each student came up with questions with different thoughts. They said, "We can explore more in these summer camps rather than we learn from school".
Mrs. Rajalakshmi, is passionate to teach children although she is not a teacher by profession. She not only teaches in summer camps but she also conducts workshops throughout the year. She teaches Corporation school children in State bank of India campus. She works for Maithreyi Educational Charitable trust. She counsels the patients for infertility. She also guides themon how to face the society with courage and lead a happy life.
Amidst her busy schedule she teaches children, manages her family and knows how to manage time. On May 16 and 17, 2015 she is hosting a mathematics camp in which she plans to teach the students to do any multiplication from 1 to 99 in 30 seconds. She hopes to create an interest in mathematics among the participants.
Smart Kids is at New No.23,Pinjala Subramanian Road, T. Nagar. Phone: 9445316363, 8124023222