Bookz 'n' More is a library of the new era
South Madras has a lovely new library now and it's called Bookz 'n' More and it certainly lives up to its name.
The first thing you see is that the books are lined up behind polished glass windows. Enter and you are dazzled by the neat racks of books. The wood panelled shelves are smart and new.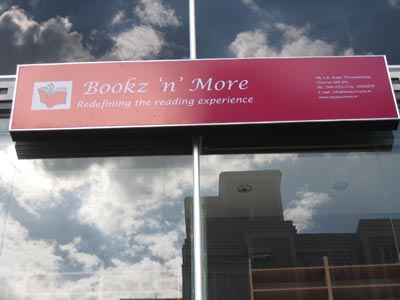 Nearly 90 per cent of all the books at this new library are brand new. They are neatly covered with plastic dust jackets. And a very big plus: Bookz 'n' More is air-conditioned. Now, you can browse to your heart's content in this really cool place.
It could do with some more books — several of the shelves seem somewhat less of book, as one may think. "Many of the books have gone for binding, and more books are yet to arrive," says the manager of the library. "We have 6,500 books here now and our capacity is 12,000 books. Before we order more, we would also like to have feedback from our members."
Another interesting feature in this library is the RFID system. RFID stands for Radio Frequency Identification. It works almost like magic. First, you keep your membership card on a metal plate, and then the screen identifies your card through the RFID chip embedded in it.
By just pressing the touch screen gently, you can find out what books are available, select what you like and issue it for yourself.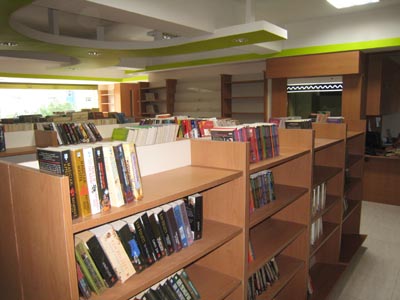 You don't even need the help of the librarian — you can do it all by yourself and it is so much fun. There aren't even any wires or buttons.
The cost of the membership is also unique. For Rs 150, you can draw two books every time you go to the library – that is, you can read two books a day if you like! On the other hand, you can keep the book for as long as you like. It is a very flexible approach to lending books. Just like this, there are other plans too.
So forget the hot, stuffy libraries where you have to worry about the number of books you can take and when you have to return them. Just walk into Bookz 'n' More and discover a whole new way to read books.
Bookz 'n' More is at 48 L.B. Road, Thiruvanmiyur. Opposite East Crest appartments, just after Indira Nagar signal when you go from Adyar.
Phone: 43511735. Website: www.bookznmore.in
---