Madras through the eyes of children
What is Madras to the young Chennaiites?
Though the children are used to referring to the city as Chennai, they look for interesting history about the places they take a walk down on the roads of Madras.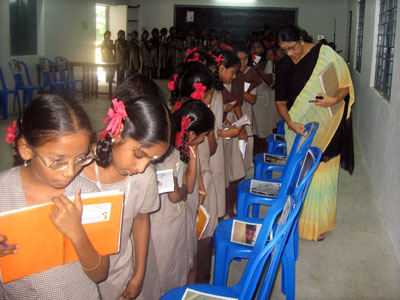 At the two photowalks that YOCee organised as a pre event of Madras week celebrations, the children captured the spirit of the city through their simple aim and shoot cameras.
N. Ramaswamy a dedicated blogger chronicling the city in pictures through his blog http://chennaidailyfoto.wordpress.com led the walk.
The photowalk on Aug. 1 started at the famed Ratna Cafe in Triplicane and the kids walked shooting all that is Madras to them, through Pycrofts Road. They curiously clicked the Hindu High School campus (opened on 12th March 1898, said a plaque) and the Sri Saraswathi Gana Nilayam established in 1939 with the name written in Tamil font of yesteryear.
An old Bus Stop sign board at the Gosha Hospital stop was another, the kids loved to click. The last stop was at the Presidency College, another landmark of the city.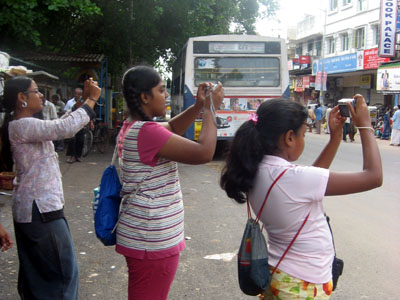 Over the next weekend, walking on the Poonamalle High Road was a different experience for a set of students from Maharshi Vidya Mandir, Chetpet, who participated as a group in the photowalk. Along with a few kids from Kilpauk were a couple of children from Mylapore and Adyar. They travelled all the way early in the morning to reach Ega theatre, the start point of the walk at 7 a.m.
Walking on one side of the road, they stopped at a huge green campus that houses Chetpet Post Office. In quest of history behind the campus, one child peeled off the wall poster hiding the factual evidence that the property belongs to Kanchipuram Ekambaranathar temple!
The Seetha Kingston House and the really huge campus of St George's School & Orphanage with the colonial red buildings were a good feed for their little shooting instruments.
The photos taken by children at these walks were exhibited at The Alliance Francaise Madras and Lady Willingdon Govt. Girls School, Triplicane.
Click here and you can have a look at the online album of the select pictures by the children.
---