Sishya Fete – full of fun!
The biggest annual event at Sishya School – Sishya Fete was held on the school grounds July 7 this year. Every year the fete draws young people from all corners of Chennai and this year was no exception. Though the ominous cloudy skies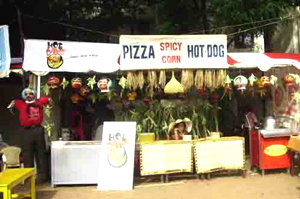 threatened rainfall, it did not rain on the day.
The fete started at 3 pm and by 4:30 pm it was buzzing with activities. The junior classes had put up game stalls and the senior classes manned the food stalls.
The games stalls included hoopla, skittles, coconut shy, tyre-and-ball, feed-the-clown, derby, ring-the bottle and everyone's all-time favourite, the treasure hunt. This stall was decorated in Indiana-Jones style and the kids had a great time hunting for 'the black diamond'.
A jewellery stall selling silver and junk jewellery had also been set up.
The hair salon, Bounce had a stall of their own and did roaring business in hair colouring, mehendi and sticker tattoos, nail art and funky makeup. Tarot cards reading attracted many girls.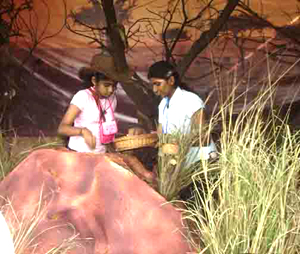 The food stalls, where the older kids hung out, did quick business too. The Chaat stall was decorated impressively with strings of channa and panipuri shells and a sign made with lentil grains in different colours. The collage of a Rajasthani scene done entirely with puffed rice, panipuri shells, green chillies and grains stole the show.
The Corn, pizza and Hotdog stall, boasted of 'Sivaji-the boss' theme with decorated mud pots with actor Rajnikanth's face!!
The Fruit Shop sold out their infamous Lime Mint Coolers by six o'clock, much to the disappointment of many kids.
At Sam's Kitchen and The Bakery, the items were flying off the shelves and by dusk dishes were rapidly going out of stock.
A selection of English music was played and before long, Sishya students were dedicating their favourite songs to their teachers and asked for marks!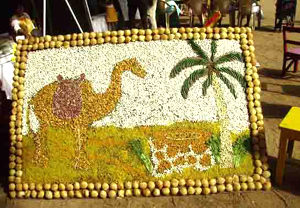 A special Yo-yo show with performers from Singapore also took place. Bullock cart rides and the bouncy castle were favourites with the smaller kids.
At the end of the fete, the Grand Raffle was conducted and a lucky few won exciting prizes such as air tickets to various destination, meals at Chennai's favourite restaurants and gift hampers from various sponsors.
---