The Penderwicks
Review by Madhumitha Sriram, Age 10, Chettinad Harishree Vidyalaya, R.A. Puram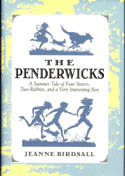 Title: Penderwicks
Author: Jaenne Birdsall
Setting: Arundel
Main Character: Jeffrey and the Penderwick sisters
Characters: Jeffrey, Rosalind, Skye, Jane, Batty, Mr.Penderwick, Mr.Dupree, Cagney, Churchie, Yaz, Carla, Katheleen, Harry, Hound, Mr.Framley, and Mrs.Tifton
Plot: The Penderwick sisters help stop Jeffrey's mother and Mr.Dupree from enrolling Jeffrey into a boarding school that he hates to go to.
My Favorite Part: My favourite part is, when the Penderwick sisters are ready to go back to Cameron, Massachusetts, and Batty gives away her precious wings and her picture of Hound to Jeffrey. Also, when Cagney gives Rosalind one of his flowers from the garden.
What's interesting about this story: I would recommend this book because I like the characteristics of each of the sisters like, Skye is fond of teaching herself Math, Jane writes a lot of books and publishes (she is only 10), Batty takes care of Hound like its mother and Rosalind takes care of Batty, since her mother's cancer accident.