Aswath receives award for innovative Sci-tech idea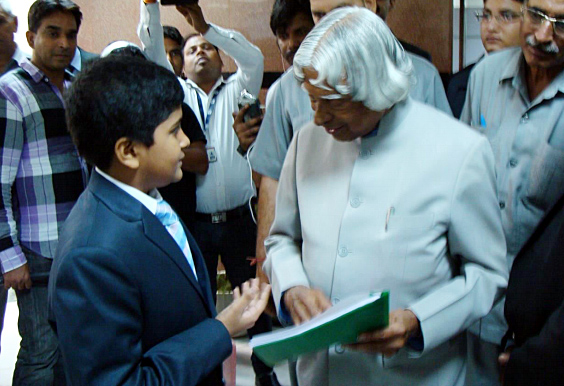 Aswath Suryanayaranan,a student of class 8 from The PSBB Millennium School, Chennai, received the Brahmos Aerospace Best Student Award in the junior category for the novel and innovative ideas in science and technology recently.
He received the award from the former President of India, Dr. A.P.J. Abdul Kalam at a function held to celebrate Brahmos Day, on June 12, 2014 in New Delhi. The award consists of a cash prize of Rs.5000 and a certificate.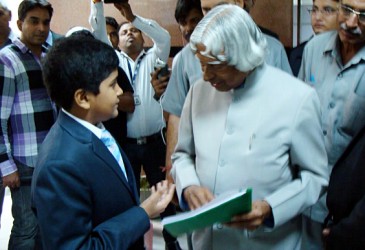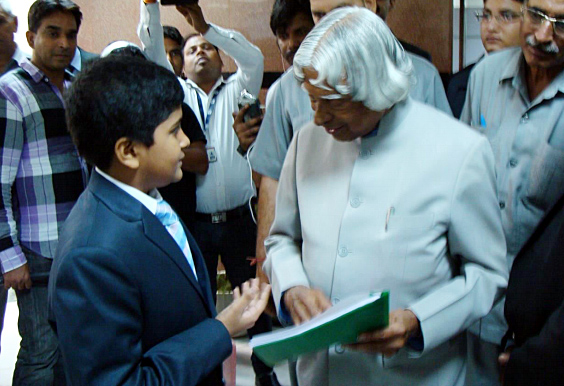 Aswath had submitted a project titled 'Magnetically Operated Kinetic (MAGO'KIN) Car' which offers an alternative to reduce global carbon footprint by using a magnetically operated kinetic car for the competition Science & Tech Quest 2014 hosted by www.brahmand.com earlier.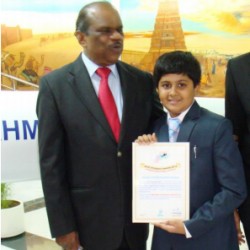 At the award ceremony, Aswath presented Dr. Kalam a copy of his book 'Knowing Space' and requested him to review his book which was accepted by Dr.Kalam to give his feedback later.
Aswath's book is an information book about space for middle school children who want to know about space. He had a very brief discussion with Dr.A. Sivathanu Pillai, CEO & MD, BraMos Aerospace. Dr. A.Sivathanu Pillai signed an autograph on his new book titled ' The Path Unexplored' released at the Brahmos Day function and presented a copy to Aswath.
He also met eminent personalities like Dr.Gopalan Jagadeesh, Chairman, Centre of Excellence in Hypersonics & Professor, Department of Aerospace Engineering, Indian Institute of Science, Bangalore and Mr.Shyam Chetty, Director, National Aerospace Laboratories, Bangalore and they were eager to listen to his explanation of his award winning proposal.
Dr.Jagadeesh made a point to Aswath on prototyping the project proposal submitted to Brahmos Aerospace.
Aswath, probably the youngest of all award recipients who received lots of appreciations from the senior employees of Brahmos Aerospace and other award recipients.
Aswath had an opportunity to visit the Brahmos museum followed by the lunch organized by Brahmos Aerospace at their lawns.
---