Change for better
It was on the day when the students went to get their news books from St. Mark's Matriculation Hr. Sec. School, Chromepet saw the colour of the uniform dress has changed.
The girl students wore blue pinafore with a white shirt and the colour of the ribbon was white till last year. And yes, the white gets dirty as the children enjoyed their days at school. Washing them was a task, though they again wore neat and tidy dress next morning  just to become dull and dirty by evening!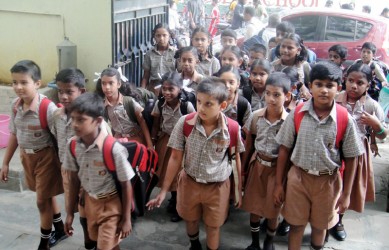 It is not all the same story now. The girls wear brown skirt and the boys were a brown half-pant with matching checked shirt. The colour of ribbon for the girls is also brown. The students look happy and return home happily without the dull and dirty look in the evening
The students later learnt that the change in the colour of the uniform was the idea of their correspondent. They feel the difference now and think the colour suits the  dusty Chennai weather.
---