Children's science magazine Thulir celebrates silver jubilee
By Jenita V, Guest Reporter
On Nov. 24, 2012, Thulir, a Science magazine for children published by Tamil Nadu Science Forum (TNSF)celebrated its completion of twenty five years of reaching to children. The magazine has a circulation of 35000 copies and a major part of this goes to the rural areas in Tamil Nadu.
The TNSF's activists and volunteers contribute to bringing out and sale of the magazine every month. Science professors and scientists contribute to the editorial of this magazine.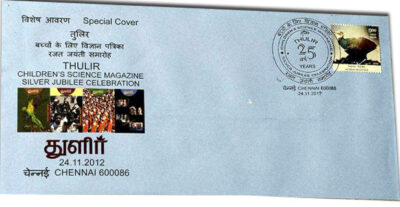 Celebrating the Silver Jubilee, a postal cover was also released. Along with it released was a CD containing the digital formats of all the issues of Thulir.
If you want to subscribe to Thulir, visit the website http://www.tnsf.in and choose Thulir under Publications.
---