Dedicated to progress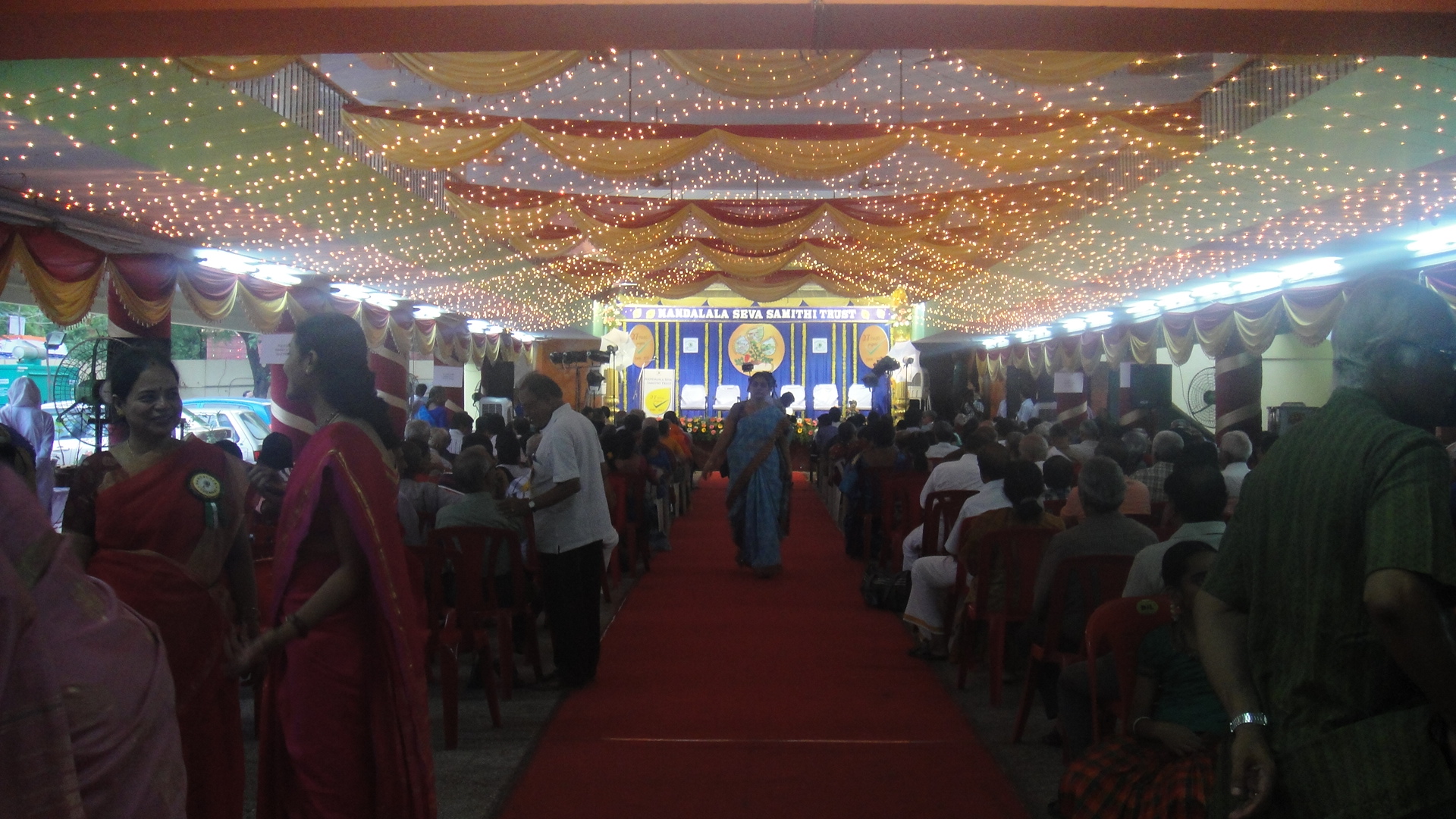 The Nandalala Seva Samithi celebrated completion of 27 years of service on May 16, 2015. The anniversary celebrations took place at SVR Kalyana Mandapam, Royapettah.
Since its inception in 1988 the Trust was engaged in service to the people. On the day of celebration, the hall was illuminated and decorated with flowers. The stalls around the hall included herbal plants from Sri Nachiyar Mooligai, jewels made from grains and seeds of fruits, books for kids and adults written by Pujyasri Mathioli Saraswathy, the founder of the Trust.
The celebration began with Ganapathy Homam and music by Janani S. Rajan and party. Ms. Yazhini spoke on 'Welfare of children.' A dance drama based on story from Mathioli's Book 'Thakkam' presented by guru Lakshmi Kannan's Jathiswaralaya dance school. A magic show by 'Puyal' Ganesh entertained the audience.
Vedaparayanam by the students of Sri. S. Venkateswaran filled the hall. Mr. Jugan anchored the program. After a welcome address by Mr. Suresh Rajagopalan, talks by and Chief Guests Mr. Tarun Vijay MP., Mr. Pushpanath Krishnamurthy, Director, Programme and Advocacy centre for social markets, and Dr. Shriraam Mahadevan, endocrinologist followed.
Nandalala also provides medical service, child development, developing of villages, agricultural development among other activities. The motto for the 28th year is 'We Progress'. The Trust plans for programmes in child development and developing a village this year.
Nandalala Trust aims to provide and facilitate access to adequate healthcare. For this they provide low cost dialysis at Suraksha Dialysis Center. The centre is currently equipped with nine haemodialysis machines supported by compatible infrastructure and hygienic ambience. Suraksha ENT consulting and surgery centre functioning since April 2009 has been providing ENT care at affordable cost for the needy. Nandalala Medical Foundation (NMF) has set up a physiotherapy centre which is equipped with modern equipments. They also conduct health camps and have been organising free medical, blood donation, ENT and eye camps.
The vision of Nandalala's Medical foundation is to serve as a centre of excellence for wholesome and total preventive healthcare for all and a sustainable curative centre for dialysis and ENT care for the poorer sections of the society. They hope to develop a sustainable model which is replicable for the whole country and elsewhere. Their activities include awareness programs on osteoporosis, cancer, lung affliction, and other preventable diseases. They have commenced the journal of a quarterly news letter 'Dheergaayush.'
Mr. Tarun Vijay spoke on the importance of Mother and Mother Earth. "Tamil language and culture is the only language with rich traditions which spreads all over the world," he said. Speaking from his heart, Mr. Jugan shared his experience about how their family came out of struggles.
The visitors to the function were given a free vasthu plant after a tasty dinner.
---
---