Roshni paints her way to glory
The love for strokes and colour takes Roshni K.R. to be dispaly her talent in many competitions.
A class 6 student of S B O A School And Junior college, Annanagar Roshni has recently won the first prize in The Hindu Young World Painting contest 2014 held on Feb 23, 2014 in the juniors category.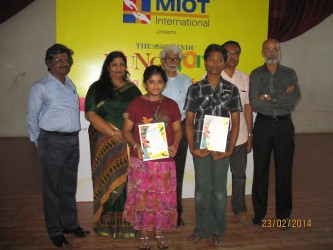 Roshni also won the first prize in Exnora painting utsav 2014 conducted on the same day by Exnora Club of Annanagar in the Juniors group, held at Leo Matriculation School, Annanagar.
Earlier in February, Roshni secured the First place in the Nationals level Art contest NHAF- 2014 by J .J School of Arts, Mumbai in the category of age group 11yrs – 14 yrs.
---