Smooth Sail for Dheer Singhi
Dheer Singhi of RMYC emerged as the top ranked sailor in the optimist category from India in the 10th KFC Langkawi International Regatta Perdana, held at the National Sailing Centre Langkawi, Malaysia recently. He ranked 13th overall in a fleet of 96 boats.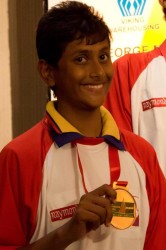 Fourteen year old Dheer, studying in Bhavan's Rajaji Vidyashram in Chennai, began training in sailing when he was 10. His passion for the sport grew and performing well in the regattas held in India, he became part of national squad in 2011.
In 2012 he won a bronze at the India International Regatta held in Chennai.
Bangalore based 15 year old Vir Menon, representing The Royal Madras Yacht Club, bagged gold at the prestigious this annual Malaysian dinghy sailing regatta.
Vir sails the Laser 4.7 class of boat (under 18 age bracket) and is the current Inland National Champion as well as the under 16 Coastal National Champion.
The Royal Madras Yacht Club trains children and adults interested in sailing. The club functions out of the Madras Harbour. The managers Mr. Martin and Mr. Ramesh are on mobile no. 92821 07443.
---