Spiritual Retreat
Our School conducted a spiritual retreat – Walk With God, as a tribute to the founder of our school Rt. Rev. Dr. G. Rajkumar on his birth anniversary.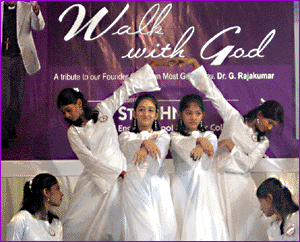 The Chief Guest for the occasion was Pas.Alwyn Thomas. The beautifully dressed choir gave us a good start with a prayer song. Miss. Adlin led us into a word of prayer asking for god's presence with us. The welcome address was given by Mas. Ashok, secretary of the scripture club. Mrs. Anitha Edison gave us an encouraging talk about the retreat.
Followed was a splendid choreography performance by our school students. The students were served with soft drinks which added an extra pleasure to the event.
Pas.Alwyn taught us a short yet a very meaningful song which was so beautifully sung in various languages like English, Tamil, Malayalam, Chinese and so on. Then Pas.Alwyn led us to a serious moment of prayer. He prayed for each and everyone for their problems to be solved and be blessed. We dispersed for lunch.
There was a puppet show with Tinku, the monkey after the lunch break. The show made all of us to burst out with laughter. We also had a magic show in which Bro. Timothy entertained us with wonderful magic tricks.
We then watched tableau and choreography from various schools which entertained all of us till 5.30 in the evening. Miss. Anisha, assistant secretary of the scripture club thanked everyone. Hot and tasty snacks were waiting for us after the show. A nice evening, well spent.