Spreading peace through painting!
The world thinks about instilling peace among the nations and their people. But how does a young mind think about it?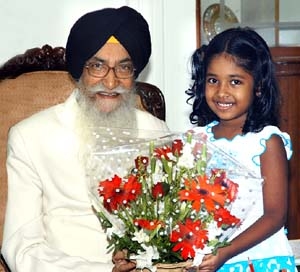 S. Varuna, a student of class 2, of AMM Matriculation School, Kotturpuram put up an exhibition of paintings on the occasion of World Peace Day.
The exhibition was held at Durbar Hall, Raj Bhavan on September 22, a day after World Peace Day and was inaugurated by the Governor of Tamil Nadu, Mr. Surjit Singh Barnala.
The theme of the exhibition was '194 Countries Follow the Path of Peace'. Varuna painted 194 pictures representing 194 countries of the world.
She did these paintings using different mediums such as acrylic and watercolours and each painting took her about 10 minutes. Varuna also did a live painting of an abstract Ganesha holding doves, on that day! The exhibition also featured sand, pebbles and photo art by the artist apart from paintings.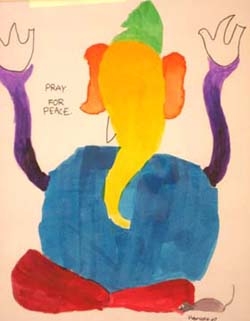 Varuna has been learning painting from her father, A. P. Shreedhar, since she was two and a half years old. This is Varuna's fourth painting exhibition so far.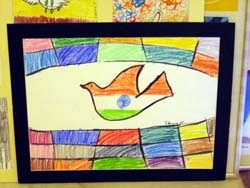 Another of her recent achievements is an 'International Peace and Co-operation Award' from Spain. She received this award in recognition of her winning the first prize for drawing on the topic 'For a Planet Without Gender Violence'.
---