Striking strokes and shining medals
Academically brilliant and a talented swimmer, B. Praveena Devi has been swimming from the age of nine. National School Games held at Panaji ,Goa, South Zone Aquatic Championship held at Kerala, Republic Day Sports Meet held at Dharmapuri and the State Games held at Thanjavur were the recent events in which Praveena has won prizes and medals. A student of class 11 at PSBB, K. K. Nagar, Praveena scored 95% in the class 10 board exams of CBSE.
In this interview, Praveena Devi shares the secrets of her achievements, which every student passionate about this sport would want to know.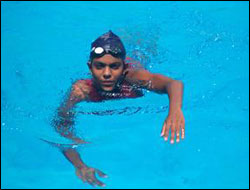 From which age have you been learning to swim?
I started learning basics of swimming from the age of 9, but my competitive learning to participate in sports events started from the age of 13.
Who is your coach?
My coach is Mr. Veerabadran of Tamil Nadu Swimming Parents Association.
Can you tell us how you balance between your academics and swimming?

I practice swimming for nearly five hours everyday. In the morning it is for two hours and for three hours in the evening. These swimming training sessions help in improving my concentration. I feel, as a result of this, even if I study just for an hour everyday I retain maximum concentration and register what I study.
But there are certain things that I forego like I don't watch television, I never chat and I also prevent telephone conversations.
What levels have you reached in swimming? Have you represented the state?
Yes, I have represented Tamil Nadu in National level tournaments. I have also been the girls' team captain in the National level for more than a time. These captains are chosen based on the number of gold medals the have won.
What are your recent achievements?
Recently I won two bronze medals in the junior nationals and in an open state competition I won 2 gold and 5 silver medals.
What do you think as your memorable achievement?
There are several unforgettable achievements. But one award, which I can never forget, is the first national gold that I won in the CBSE tournament in Bhopal in 2005.
Who supports you at home?
Everyone at home have been a great support in several aspects like my mother helps me complete my pending work and takes care of my diet. My father helps me in taking me to swimming classes daily and my sister teaches me all my lessons!
What are your other achievements?
I have secured 95% in the class 10 boards. For the class 10, I got the all rounder award and also the prestigious Mrs. YGP award. I have been getting the all rounder prize continuously from class 3. I was also given the best student award by the Lions Club.
---