Vidyodaya Schools Celebrate their 90th Annual Sports Meet
The city woke up to a wet ground and pleasant climate on July 12, 2013. Be it rain or shine, the sports day at Vidyodaya Schools has never been hampered.
On their 90th Annual Sports Meet, the Vidyodaya schools ground was alive and buzzing with activity. With flags raised high and trumpets blowing, the school welcomed Mrs. Padmaja Kamatchi, a member of the Indian Air Force to preside over the morning session as their chief guest and Mr. Sivaramakrishnan, a well-known face in the Ranji Trophy circuit, to felicitate the evening session.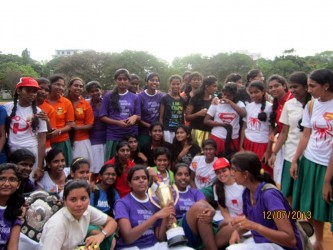 In the interest of those not familiar with the school's jargons, the students of the school represent one of the four Alayas (or houses) namely Premalaya, Sathyalaya, Sevalaya and Thyagalaya. The march past by the four Alayas was the highlight of the morning session. Timed to perfection it was a real treat to watch. Sevalayans bagged the March past shield this year for their outstanding performance.
The overall championship was awarded to Sathyalayans for their eminent accomplishment in all events. The Alaya that cheers their fellow Alayans the most with meaningful slogans will add to their collection the much coveted Cheering Shield. This year, the Thyagalayans won this award for cheering their hearts out.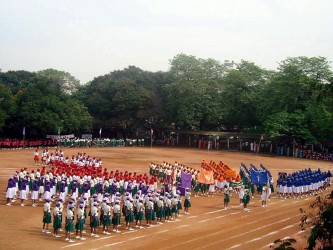 To add spice to the otherwise energy sapping day, enthusiastic students shook a leg to the tunes of Jai Ho and other songs. Tiny tots were dressed as interesting mascots that symbolize their Alaya. It was quite a sight to watch them as 'The Smurfs' and Spider man.
Vidyodaya encourages its students to take up sports. To this end, they have instituted various awards for the performers. The Best Outgoing Student was awarded to Shrinidhi for her excellent performance in both academics and sports. Aarthi and Chinthana were awarded the Individual Championship in the Senior and Super Senior categories respectively.
"This day marks another milestone in the history of Vidyodaya with true sporting talent being brought to light and the spirit of sportsmanship burning ever bright in the student's hearts", said one of the teachers.
---
---