We learn, we also earn
This is all about our special brothers and sisters who strive to lead a dignified and self respected life.
There is this DS Special Children Welfare Association in Virugambakkam to give hands to their parents after their schooling education is over.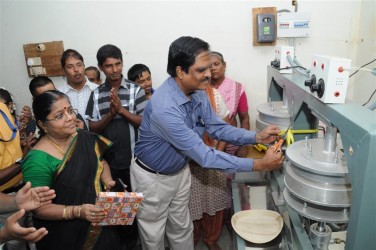 The DS Special Children Welfare Association formed by parents of mentally challenged adults, more specifically of Down Syndrome has been functioning since 2005.
The children, now adults, are given vocational training in weaving of kitchen mopping cloths, towels and doormats, tailoring, juice making.
Areca plates and biodegradable cups are also manufactured with the help of special educator at this centre.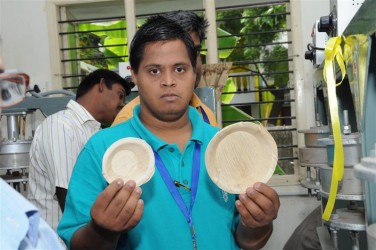 The products manufactured here are and its sold in the market and the proceeds go to fund the 'salaries' of these special people and the cost of running the workshop.
Recently, Rotary Club of Madras East, donated Rs. 2.75 lakhs towards the cost of a hydraulic press machine to manufacture the areca plates and cups, known as donnais traditionally.
T.P. Jagadeesha Murthy, chief manager of Canara Bank, St Mary's road branch inaugurated the machine and donated a sum of Rs. 10000 on behalf of the bank.
The children also learn dance, sports, yoga, and other activities with the help of experts. These children work while they work and play while they play. They are happy that they too earns a salary.
>>>DS Special Children Welfare Association accepts orders for the eco-friendly plates and cups for the Navaratri. The Association can be reached at Plot no. 4, Door no.2, Annamalai Colony, Virugambakkam. Phone : 23760640. Email :dsscwa@hotmail.com
The co-ordinators of the association are Lakshmi Sundar (94453 30617) and Mahalakshmi Thiagarajan (98400 70438).
---