With over 186 countries participating, it is the first instance of a multi-sport event being held at this level and marks a milestone for the sport.FIDE (Fédération Internationale des Échecs) is a non-profit organization that governs international chess competitions worldwide through its World Chess Federation (WCF).
The Chess Olympiad is among the world's top 10 most-attended sports events. It is also the most significant chess event in terms of participating countries. It was initially conceived by a group of Central European countries to form an international chess competition that would be held every two years, just like the Olympics. The first Olympiad was born in London in 1927; since then, it has become one of the most prestigious and popular tournaments for players and fans.
The opening ceremony of the Olympiad has held at the Nehru Indoor Stadium in Chennai. It was a grand event that gathered many dignitaries, including various celebrities and government officials. The ceremony was preceded by cultural performances by dancers from Tamil Nadu and then followed by speeches made by officials. The Prime Minister of India, Mr Narendra Modi, inaugurated the event along with FIDE President Arkady Dvorkovich in the presence of the Chief Minister of Tamil Nadu Mr M. K. Stalin and former world champion Vishwanathan Anand. The event also saw a performance by famed actor Kamal Haasan, narrating the history of Tamil Nadu, and Singers Dhee and Kidakuzhi Mariyammal performing the song "Enjoy Enjaami."
The venue for this grand chess tournament was the Four Points by Sheraton. The hotel is located on the beach in Mahabalipuram, a seaside town outside Chennai.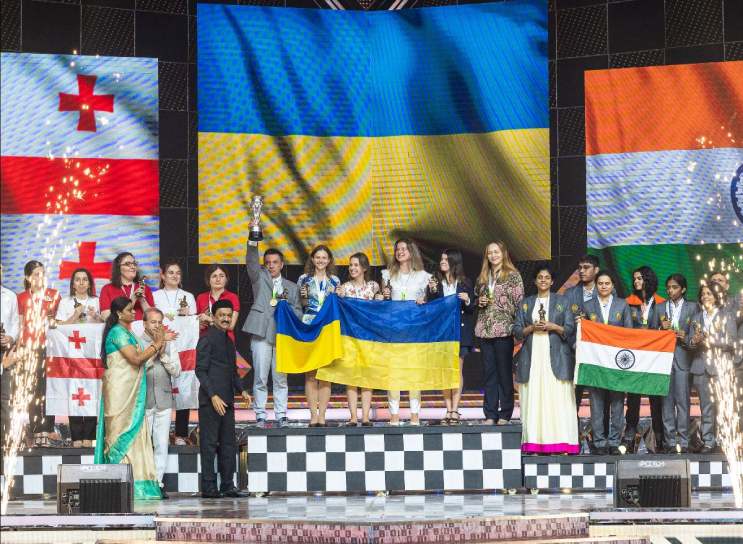 Uzbekistan won the gold medal in the Open event, their first overall medal in the Chess Olympiads. In contrast, Ukraine claimed their second gold in the Women's event (having previously won in 2006). India 2 and the first team of India both bagged bronze in the open and women's events, respectively. The Indian team had an impressive performance in the Olympiad.
Gaprindashvili Trophy is given to the team with the best combined overall performance. It was won by India, with the U.S being the runner-up.
Pics: https://www.fide.com
---