We, the students of Chennai Public School, Anna Nagar, got an opportunity to visit the city of Pearls, Hyderabad.
On the First day, as soon as we reached the Hyderabad station, we took off to the hotel, the Central Court. After a bit of rest, we proceeded to the adventurous Salarjung Museum. We had a chance to travel back the past to various parts of the world. We got to see the sculptures of Roman woman in each season. There is a collection of chessboard that were made from different materials. There were a collection of Christian sculptures. In one section, they had weapons that were made of ivory and steel. There were also paintings of Indian kings and queens. Salarjung Museum definitely deserves to be a wonder of Hyderabad.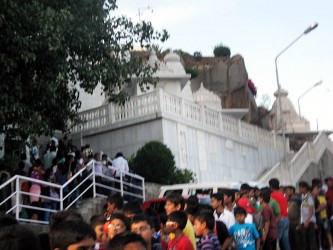 After travelling to the past, we came back to the present. We returned to the Central Court for lunch. After lunch, we all turned ourselves into a bunch of holy people and went to the beautiful Birla Mandir. The cool part is that the whole of Birla Mandir is made of marble. In front, there was a gigantic statue of Vishnu that was also made of marble. We even got see of group of falcons fly right above us.
After the calm and peaceful Birla Mandir, our destiny told us "Fasten your seat belts, it's time to have fun". We immediately flew off to the adventurous Lumini Amusement Park.
The next day, we set off to the Ramoji Rao Film City. We had loads and tons of fun at the amusement park in the "city".
There were many rides like twister, bull ride, Ferris wheel, and even bungee jumping was there.
Outside the amusement park, we got to see the film setups they had in the film city. They had built an international terminal with a replica of a real airplane. Movies like Ra.One were shot in this airport. We also saw a train station. They also built Taj Mahal, Hawa Mahal, and even a garden. We enjoyed a lot in Ramoji Film City.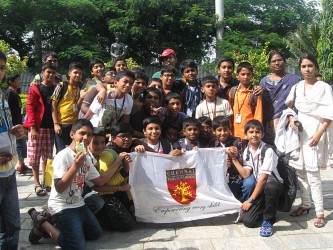 The next morning, after breakfast, we set off to Golconda Fort, which was a terrific experience for everyone. They have an excellent speaker system in which if you clap from one gate, all other gates will hear the sound!
The fort showed a huge historical account of the past. Aurangazeb, a Mughal emperor, later said to have conquered the fort.
Then we went shopping and left for the train back to Chennai. This trip was definitely a very memorable one. Now, I'll ask you one thing. Don't you feel like visiting Hyderabad?