Abhilasha Veeraraghavan, a 9th std student of Sankara Senior Secondary school has just made her parents proud.
Recently she performed her arangetram at Bharatiya Vidya Bhavan. Her jewellery & artworks were also showcased. She was nominated for the POGO Amazing Kids Awards. She has qualified for Mars Spelling Bee at the International level. She has performed in a variety of shows including in Vijay TV at the launch of Actor Vikram's Deiva Thirumagal.
When asked about the experience of performing in front of Vikram an enthused Abhilasha says, "I was really thrilled and excited to perform in front of him. I had never thought I would meet him someday in my life. It was like a dream turned reality for me. The best part was when the director of the movie, Vijay himself came and appreciated my dance performance."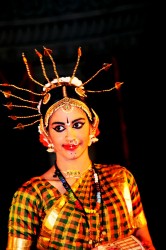 Abhilasha had also won in the Champion of the Episode Thamizhagathin Champions by Ms.Sudha Chandran and drums Star Sivamani. She has been learning Bharatanatyam for the past four years under the guidance of gurus Shivakumar and Shailaja Shivakumar of Shivakalalayam Academy of Performing Arts (SAIPA).
She also designs jewellery apart from dancing. She uses artificial pendants, Gold-plated pendants, pearls and small Gold beads (Chakras) for her Jewellery.
But her first love is always dancing. She loves the art form Bharatnatyam & its purity and dance styles brought the passion to pursue the art. She is also a great lover of Western dance. She got a grandmasters degree in Abacus & Mental Arithmetic.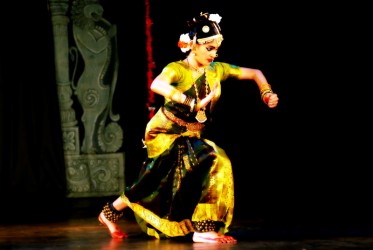 She also has an International Certificate in drawing and painting from Limpkok Wings University, Malaysia.
Ask her how she is able to balance academics as well as art and she says, "Studies are of primary importance to me. During free periods in school, I always complete my homework and once I come back home, I revise through what they have taught. Once done,I involve myself in my extra-curricular activities. This is how I strike a perfect balance between studies and my extracurricular activities".
Her sister, Ashwini Veeraraghavan, has been a great support to her. "If not for her, I would not have stood as a successful dancer now," she adds.
Her dream is to create a total blend of Classical and Western dance. She also dreams of establishing a Western dance school and spread Indian classical arts to the West.