Amazing musician, Vishnu Ramprasad
Vishnu Ramprasad, from Adyar,Chennai has won 2010 Pogo Amazing Kids award for Music. He is a class 9 student of KFI and resides in Sastri Nagar. In a chat with C. Madhumathy, YOCee's student Reporter, Vishnu shares his experience of learning and performing music.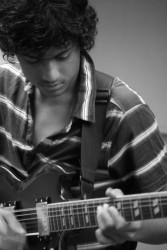 Q: Who is your Guru? Was he training you from the beginning or you have changed Gurus over the times?
A: My Guru is Mr. Neil Mukherjee who has settled in Mumbai now and he is a very good friend of my dad .After learning from him for two to three years of learning it is self taught. I started playing guitar a lot by myself. I even learnt from the internet but I am still in touch with him.
Q: Have you performed at an international level?
A: Well, not yet but I would love to one day. But now I've only been performing at national level. I've performed in places like Bangalore, Chennai etc.
Q: Do you play any other instruments?
A: I used to learn drums before. I initially started with vocal, carnatic, but I was not that interested in it & so gave it up & opted for drums. I quit learning drums because my mom said she won't buy me a drum set since we don't have a place for that in our house (Laughs) and then I'm learning sitar for about 4 months.
Q: How supportive are your parents?
A: My parents are totally fine with what I'm doing and will be fine as long as I'm doing something related to music. It's just that they have restrictions that I have to go to bed early since I keep playing guitar.They are happy and very supportive especially my dad ( Mr.Ramprasad is a Carnatic Musician) is very supportive because he guides me all the time and since he knows about music I take that as a very big advantage and learn from him as much as I can.
Q: Why did you come with the name 'The Karmic Blues?'Is there any particular reason?
A: Basically about six months when I was going to school I was beginning to hear a lot of carnatic music than usual. So I came with the whole funda of mixing carnatic and rock making it a progressive Indian music. So I told my band about it and my friends agreed because Blues is another music that we do so we decided to keep that name.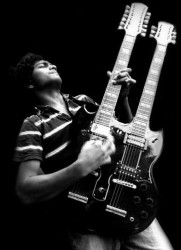 Q: Tell us more about 'The Karmic Blues'.
A: Well, there's been some line up changes. It first started off as a three piece where myself, drummer called Pramod, bass guitarist Shashankh were part of it. But then Pramod had to leave now because he's in 12th so he wanted to concentrate but he'll be back with us soon. Till then we are having another drummer whose name is Prabath Arora. He's really good.
Q: Who inspired you to get into rock music?
A: No one. I just felt that it was cool and very trendy in this generation which people love it. I do listen to all those pop and rock bands but I love Pink Floyd most of all and also Jimmy Hendrix but Pink Floyd was everything to me.
Q: Can you tell us in detail how you got into the Pogo Amazing Kids Award programme?
A: Yeah.Those organizers called my dad to suggest some kids he knew as he usually does since they are friends. But he couldn't come up with anybody since all were abroad so he suggested me; they picked me up and this how it all happened.
Q: How did you get into the final? Did you perform specially for that or they nominated you with your previous performances?
A: We sent them a CD which had me playing some tracks and they told me I was one of the nominees for the final and they held an audition in Chennai and they also recorded me playing couple of tracks too. They then took it to the judges in Mumbai. We also had leave for Mumbai for some interview sessions and for the shoot for TV.
Q: How happy did you feel when you won the award? Describe the moment.
A: Honestly, I was happier when I got into top 3 and after that I had a hunch that I'm going to win (Laughs) and yeah I won!
Q: Who would you like to thank for this award?
A: Let's see, there's a long list …I would like to thank judges, my parents especially my dad because he has done so much work for this and my guru for the music he gave me…
Q: How do you manage both school and Music?
A: That's exactly what I've been thinking about (Laughs).It is little tough managing both actually when you feel like you want to do a lot of music. Bur what I've decided is, okay let's study for three years and perform less than the usual. Music will be a part of me on everyday ofcourse but I've been thinking of performing less.
Q: Have you planned to give it a break next year since you would go to 10th or you are still going to keep it going?
A: Definitely I'm not going to leave it just like that but my performances will be less. I'll focus more on studies than on music in 10th and 12th too.
Q: What are your future plans? Are you going to go in the music field or do something else simultaneously?
A: Well, I've been thinking about it a lot these days about my future and how it's going to be. I definitely would like to do something with music but apart from it I think I'm going to go for CA like my dad. I need to earn for my living and I don't think I'm going to earn much when I keep music only as my profession and I'm also very interested in Maths so yeah, CA.
RAPID FIRE QUESTIONS
Favourite singer?
Jimmy Hendrix.
Favourite band?
Pink Floyd.
Favourite song from your favourite band?
Shine on you crazy diamond by Pink Floyd.
Favourite song from your own compositions?
Carnatic jogue.
Favourite cuisine?
Mexican!
Favourite holiday spot?
Andaman and Nicobar Islands.
Favourite actress?
Catherine Zeta Jones
Favourite actor?
Leonardo Dicaprio
Favourite movie?
Inception
One favourite person in this world?
A friend at school
https://yocee.in/amazing-musician-vishnu-ramprasad/
Proud Kids
Vishnu Ramprasad, from Adyar,Chennai has won 2010 Pogo Amazing Kids award for Music. He is a class 9 student of KFI and resides in Sastri Nagar. In a chat with C. Madhumathy, YOCee's student Reporter, Vishnu shares his experience of learning and performing music. Q: Who is your Guru? Was...
Madhumathy C
Madhumathy
C
madhumathy@yocee.in
Author
YOCee