She has been the cynosure of all eyes ever since she received the National Award for The Best Teacher from the CBSE, yet fame sits lightly on  the shoulders of Geetha Nandhakumar, vice- principal, Bhavan's Rajaji Vidyashram, as she continues her day to day work as teacher and administrator with the same passion with which she had begun way back in 1984. Soham Bhadra,  Student Reporter of YOCee, catches up with her for a chat at the school.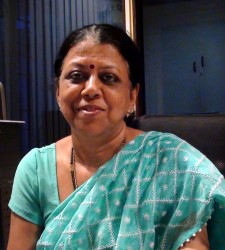 In spite of her busy schedule, Ms. Geetha Nandhakumar readily set aside some time for me when I approached her for a short conversation for YOCee. She made me feel at ease at once with her winning smile, warmth and poise. She had no problems with a green horn reporter like me and gave all the time in the world not only to answer my questions but also to pose for the perfect shot.
Excerpts from the interview:
Heartiest congratulations Ma'am on your National Award as the Best Teacher by the CBSE. What was your first reaction on receiving such a coveted award?
I felt happy, proud, grateful and privileged.
When and where was the award ceremony held? Please give us some details.
It was held on 4th of September 2013 at India International Centre, Max Müller Marg, New Delhi, and was attended by dignitaries and many fellow awardees from all over India.
Can you give us a brief background of your teaching career?
I am from Coimbatore and have done M.Sc. B.Ed in Zoology. I started teaching in 1984 at Vivekananda Vidyalaya, Anna Nagar. I  joined Bhavan's Rajaji Vidyashram in 1986, and was appointed Vice-Principal in 2002.
Now that you have reached the peak of your career, have you set yourself any other goals for the future?
You don't exactly work for an award; it just 'comes' but you must do your duty.
You are an inspiration for all of us. Please tell us who or what inspires you in everyday life?
Well , Ajeeth Sir, our Senior Principal, who himself is an earlier recipient of this award, continues to inspire me to give my best, as do many motivating qualities in teachers and students alike.
Do you get time off from your busy schedule? What are your other interests/hobbies?
I like to read, though I get very little time for it. Of course there are commitments at home too!
What message would you like to share with us at this moment?
Yes, this is for all of you. Do your best, don't fall back on excuses. Take complete responsibility for what you are doing. Live every second to the fullest and have no regrets.