Ravindra Bharathi global school, Keelakatalai celebrated 'Grand parents and Flower's day on Sep. 7, 2012.
The celebrations began at 10 am with a warm welcome accorded by students of classes Pre-KG to Seven, by exhibiting their talents such as singing and dancing.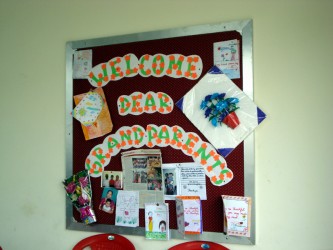 The whole campus wore a colourful look , as it was decorated with natural and artificial flowers brought or made by students. The grand parents were taken to their respective grandson/granddaughter's class rooms. The class room was further decorated with flower and charts created by students.
The school has unique naming convention of section which are very attractive and catchy. The classes were named after greek alphabets namely alpha, beta , gama, delta, teta and zeta.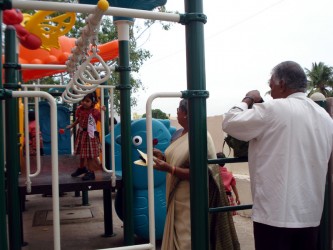 Mr. R. Srinivasan, grand father of one of student A. Archith of LKG Delta observed that the teaching methodology aided by visual and Montessori system has greatly improved the education system. He further stated about the friendly relationship prevailing between the teacher and the student, compared to good old days where the relationship was based on discipline and strictness. This liberal and friendly approach by the current brand of teachers has cultivated creativity and the out of box thinking by students, he said.
Every grand parent felt that such events are absolutely necessary to emphasise the importance of extending love and respect to our elders, which are the core values of our society. Many grand parents told that they were very happy about being respected and also bringing back nostalgic moments of their school life.