India has many dance forms. Among them, Bharatanatyam stands out for its seamless combination of dance, music, and theatre, creating captivating narratives that transport spectators to a world of myth, legend, and fantasy.
During the summer months of May, June, and July 2023, a dance production titled 'Kallazhagar – The most beautiful God of Tirumaliruncholai' took shape. The delightful Chitthirai festival of Tirumaliruncholai during which Kallazhagar is taken on a procession on a rotating golden horseback to the river Vaigai in Madurai has fascinating traditions. This production, orchestrated by a team of experts in traditional art forms, music, history and temple traditions, desires to recreate the experience of the festival on stage. Students of Kala Darsana of acclaimed Bharatanatyam guru Jayanthi Subramaniam will perform the dance drama.
I, being a student of Kala Darsana, was privileged to be part of the troupe of dancers, witnessing the intricate process of assembling talented performers, rigorous rehearsals, and overcoming hurdles for perfection.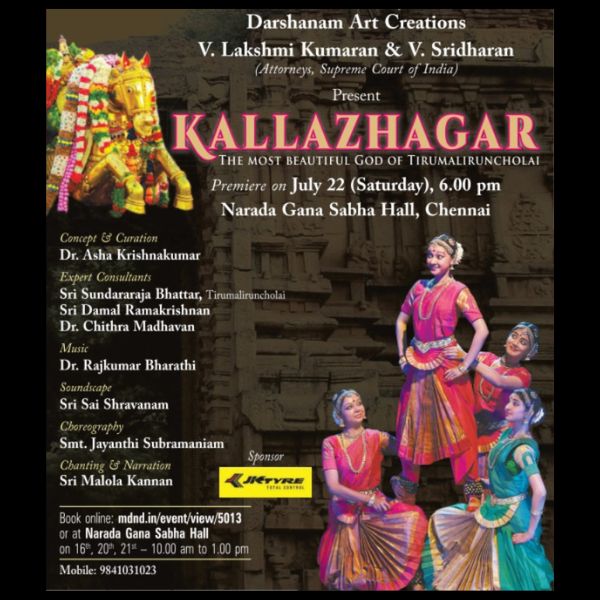 Behind the scenes:
The production, organised by Darshanam Art Creations, is conceptualised and curated by Asha Krishnakumar. Asha's process of choosing temple themes generally involves shortlisting three temples with interesting stories, visual possibilities, legends, folklore, and unique architecture.
In this production Kallazhagar, she incorporated different genres, not just classical dance, but also folk and drama elements. Renowned vedic pundit Malola Kannan narrated the Azhwar Paasurams and the backstories. Guru Jayanthi Subramaniam choreographed the performance, while Rajkumar Bharathi, the great grandson of the eminent poet Subramanya Bharathi, with his melodious rhythms, brought the production to life. Sri Vaishnava scholars such as Damal Ramakrishnan and the well-known historian and temple architecture expert Dr. Chithra Madhavan played a pivotal role in highlighting the temple's historic aspect and legacy. Sundararaja Battar of Tirumaliruncholai, one of the 108 Sri Vaishnava Divya Desams, added valuable inputs to the traditions of the temple.
Kallazhagar includes several captivating short stories. These tales feature the legendary tale of Lord Vaamana, the playful antics of young Krishna, and the temple's construction, which was undertaken by Yama Dharmaraja himself. The show promises to be a mesmerising experience for the audience, combining traditional Bharatanatyam with various South Indian folk dances like oyilattam, karagattam, kummi, and devarattam. Among the props is the beautiful golden horse, made especially to match the original one, which is one of the many highlights of the show.
My experience:
As a performer and a student, the experience of being a part of this production has left a lasting mark on me, enriching both my skills and memories. Collaborating with seasoned artists, brimming with knowledge, proved to be truly inspiring. Reflecting on our journey, it has been far from easy. The stage rehearsal on July 16, 2023, brought a profound realisation of the stark contrast to our classroom rehearsals. The atmosphere, lighting, audience, and costumes elevated everything to a whole new level. A mix of nervousness and excitement overwhelmed me, creating an unforgettable feeling that I know I will encounter again, in my future dance performances. Dedicating three hours to the rehearsals, almost every day, allowed me to escape the monotony of academics and feel recharged. This experience will stay etched in my heart!
Kallazhagar will have its grand premiere on Saturday, July 22, 2023, at 6 pm in Narada Gana Sabha. Alwarpet, Chennai
The tickets are available at https://www.mdnd.in/event/view/5013
A few videos from the rehearsals: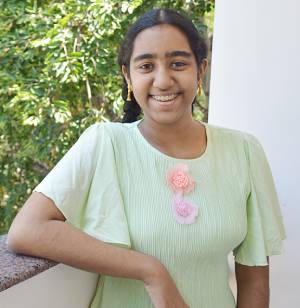 Sthuthi loves Marvel movies, writing, and dancing in no particular order. Writing especially helps her with clarifying her thoughts and keeping herself focused. She also loves reading, interacting with animals, talking to new people, and exploring new things.