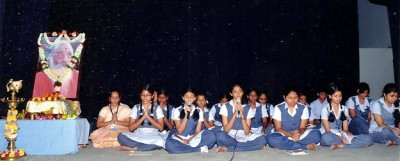 The Maha Samadhi Day of Pujya Gurudev Swami Chinmayananda was observed on August 3, 2012 by the students and staff of Chinmaya Vidyalaya, Taylors Road, Kilpauk in the school auditorium. Swami Chinmayananda, one of the greatest missionary and visionary of our times, left his bodily form on this date in 1993 in San Diego, U.S.A.
The program commenced with the Invocation song sung by the School Choir. Our school Principal Mr. Sathiyamoorthy welcomed the chief guest of the day, Mrs. Geetha Menon, a senior member of the Chinmaya Mission, who has been an ardent devotee of Gurudev since her childhood. In her message to the children she shared a beautiful, thought provoking story from the life of Lord Krishna. A child devotee offered food (neyvaidyam) to God and waits on Him to accept it. However, the child's father unaware of this beats the child assuming that he must have eaten it. The following day everyone observes marks of injuries on the Lord's idol similar to those on the child's body. This story brings out the love and affection, the Lord has for His devotees.
All the students of the Vidyalaya sang the Gita Dhyanam and recited Bhagawat Gita Chapter 12 with full devotion. This was followed by an Aarti offering to Pujya Gurudev invoking his blessings. The programme concluded with the vote of thanks given by the school vice-principal Mrs. Valsala Gopakumar.