What is the first thing that comes to your mind when we say 'Winter'?
For most of us, it is 'Christmas', 'Santa Claus', 'presents', or perhaps simply 'Holidays'; but for Sishyaites, there is a teensy bit more. Christmas Carnival. The annual Christmas Carnival was held in Sishya School on Wednesday, Dec. 14, 2011.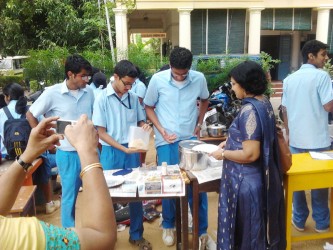 The Christmas Carnival is held every year, in the last week of school (just before the end of the second term.) It is held in the morning, and just about anyone and everyone are invited.
Each year, the Christmas Carnival includes the sale of chaat, popcorn, helium balloons, Christmas caps, cotton candy, small plastic toys and jewelry, and others, along with various festive tunes playing in the background, be it 'Felise Navidad', 'Jingle Bells', 'Rudolph the Red-Nosed Reindeer', or even 'Silent Night'.
This year, chocolate, syrup or honey waffles were also on sale.
The entire event is organized and conducted by the Sishya Interact Club, a group of 11th graders, who, in the course of the year, collect funds, donations, and goods (both edible and otherwise), and organise fund-raisers for donation to various charitable organisations.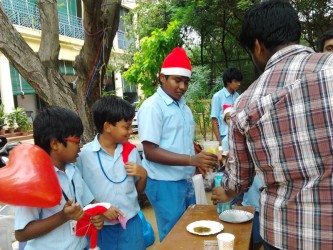 The Blue Cross of India, Little Hearts, Udavum Karangal are among the many organisations. All proceeds from the Christmas Carnival go to charity.
Says Mihika Jeyanth of class 10, "The Christmas Carnival is a lot of fun; I especially like the waffles they sold this year." Rahul Singhvi, of class 6 agrees, saying, "The waffles were pretty good. The best part about the Christmas Carnival is that we get the whole day free."
All in all, the Sishya Annual Christmas Carnival was a roaring success, and students, teachers, and perhaps even Santa Claus alike, all look forward to next year.
Photos: Ms. Abha Jajoo