A special train chugged along into Platform 11 of Chennai Central Station on July 27, 2013. The Science Express – Biodivesity Special is a 16 coach  air – conditioned train which travels to 62 locations across our country, spreading awareness about the rich diversity of flora and fauna found in our country.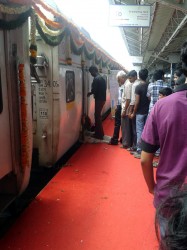 The theme, which usually changes every year, has not been changed this year as the United nations has declared this decade to the that of Biodiversity.
Many schools brought their students to see the Science Express, ignoring the fact that it was a Saturday.
Each compartment is devoted to a specific topic. The first one explains to us about what biodiversity is. The following seven coaches showcase India's biodiversity region-wise.
The 9th, 10th and 11th coaches create awareness on Climate Change Biodiversity and Water, Eco-friendly Lifestyle and Petroleum Conservation respectively.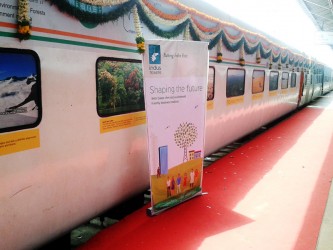 The compartments are also made in such a way that they are attractive to children, and some compartments even contain puzzles, fun facts about animals, mapping of the animals' place of dwelling and finding out the names of the species.
This train will halt in Chennai till July 30, when it will leave for Cuddalore, Tiruchi, Kudal nagar, Tiruvananthapuram, Allapuzha and Coimbatore, halting for 4 days at each place.The timings for visiting are from 10 a.m. to 5 p.m.
The official website www.sciencexpess.in has the complete schedule and more information.