On a Sunday, one can find all the schools closed and abandoned. But at Besant Nagar , the iPlay iLearn, a new preschool, was buzzing with activity on  July 11 at 9 a.m. One could see the tiny tots eagerly waiting with boxes of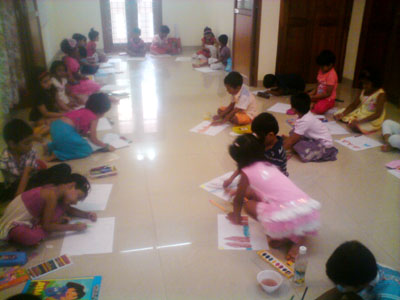 different colours, only to be provided with a sheet of paper to draw and colour on.
There were four categories, the first one for two to three years, the second for three to four years , the third for four to five years and the fourth for five to years.
While the first two groups had to only colour, the third and fourth had to draw and color for the theme, A Scenery with mountains, beaches and sea.
The aim of the programme was to bring out the talent of little kids, says Sasikala who runs the preschool.
At 10 am the most awaited Rhanu a senior and well known cartoonist arrived at the venue.
Rhanu was very friendly and cut jokes frequently which was very much liked  by the children. He taught the children how to draw human face with different expressions, swans, lions, monkeys which pleased the little ones very much. He taught to draw in a simple cartoony manner with alphabets and numbers, so that the children find it easy to draw.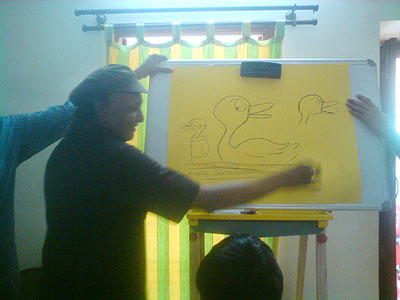 Rhanu also judged the drawings made by the children and gave away the prizes. He selected three children from each category for the first, second and third places.
All the children were encouraged with gifts and certificates for participation.
To reach out to iLearn iPlay contact  Sasikala on phone number 9176677907.
Address: iPlay iLearn, E 111, 16th Cross Street, Besant Nagar.