A personal account by Benita Georgina Mary J, student reporter who visited the Green Bazaar.
I cherish every moment of my visit to the Green Bazaar on Sep. 7, 2014. I could get an overall glimpse of various efforts taken by individuals and organization to promote nature and protect our environment. There were different types of stalls each of which had a unique concept behind it. The stalls selling vegetables grown by organic farming were the attractions. The spices grown by organic farming, though expensive, highlighted the richness in terms of nutrition. The Millets, Grains, Honey and savories made from natural fruits were a delight to the eyes and very informative.
Some of the traditional items like Red Rice, Kudiraivali, and Maize which are long forgotten reminded me of our indifference to traditional food. There were stalls which displayed clothes made from natural handlooms, Hair & Skin wash powders, Detergent powders made out of natural products. There were many individuals from Auroville in Pondicherry who put up their stalls which was mind enthralling like Artifacts made from waste papers and scrap materials, sanitary napkins made from natural cloth material instead of the conventional pads available in the market and playing cards on the theme of 'waste management'. The workshops on permaculture, Kitchen Gardening, Natural Handlooms etc., were very interactive and informative. It was a kind of eye opener to many new facts of which I was ignorant all along. Even the 'Story Telling' session by 'Once Upon A Time Group' were very carefully based on the concepts of 'Recycling' and 'Saving Trees'.
It was a very memorable and knowledge enriching experience to me.
For a Green Home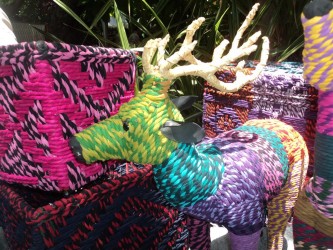 Toran was one of the most colorful and attractive stalls at the Green Bazaar. The toys and furniture displayed were beautifully made out of paper mache and waste clothes. The toys like Reindeer, Elephant, Chest box and stool are made very attractively. The toys have paper as their core and the multi colored waste clothes are wound around the paper, like a rope in an artistic manner. The prices range from Rs. 800 – 20,000. It is produced in Jodhpur, Rajasthan and they have a retail outlet in Chennai. The outlet is visited by both European and locals. Toran is at No.5, Damodaran Street, Kilpauk. Phone: 044-4202 6660, 9841946300. Email: info@toran.co.in
Truly Organic
Mr. Cross Rajan welcomed with a warm smile at the Stall TruBio Organic Spices and patiently replied to all the questions. He simply defined 'Organic' as something grown without the use of pesticides, synthetic fertilizers, sewage sludge, genetically modified organisms or ionizing radiation. Interestingly, I gathered that converting a land to Organic status is a three year process. They have 17 products which are packed in bottles or pouches. Some of the interesting items displayed were Pepper in brine, White Pepper whole, BP Grinder, WP Grinder etc., They also have 'Asian Palmyra' Palm leaf box wrapped with a ribbon for gifting these items. The handmade gift box is again made from organic, re-usable, sustainable and eco-friendly materials.
Mr. Rajan made the conversation warmer by giving a cup of hot 'Golden Milk' which was very tasty and delicious. Golden milk is a mixture of Almond milk, Organic Coconut oil, Turmeric paste and few pods of TruBio Cardamom. TruBio spices are certified organic on Japanese Agricultural Standards (JAS). It is run by Peermade Development Society (PDS), a voluntary organization headed by Rev.Fr. Arackle. The organization is based at Idukhi in Kerala.
The organization works for the integrated and sustainable development of the rural poor irrespective of religion, casted or creed. They have an outlet in Chennai at Regus, level – 3, Shyamala Tower, 136, Arcot Road, Saligramam. Phone: +91-9441074844. Email: info@dianafaraway.com
Rainy Filters
Mr .Srinivasan was up with a new concept in the Green Bazaar. The main concept of his rooftop rainwater harvesting filter was to harvest the terrace water and re-use it for domestic or commercial purposes. The water harvested is not recommended for drinking but can be used for all other purposes.
The FL-500 system appears to be a simple apparatus of about three feet height made of Poly Propylene material and costing about Rs.8000. When the rainwater enters the filter it has an in-built self cleaning mechanism through a vertically placed filter element, which automatically flushes out dirt and debris. There is a gate valve system at the drain side. There is an option for various sizes and cost. This is produced by the Kontact group which was seeded as back as 1976 as a conglomerate of companies serving wide range of industries ranging from electrical and mechanical to renewable energy and green products .
They can be accessed at www.rainyfilters.com and contacted at 080- 26766252. Their head office is at 64, 11th Cross, 7th block , Jayanagar, Bangalore – 560082
Krya
Mrs . Preethi and Mr . Shreenivas , the founders of Krya greeted us warmly. Just like the sankrit word Krya meaning 'mindful action', their efforts to showcase products like soaps and detergents reflect their concern for eco-friendly products for our daily use.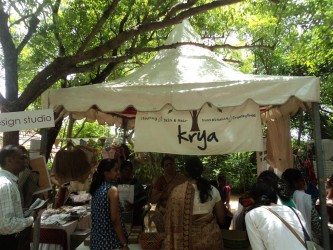 The concept behind this effort is completely natural, no artificial agents used and of course not even water. It was quite an interesting thing to know that in case of liquid based preparations like the ones we buy in the commercial market, we pay money for 80% of water as well as the preservatives in them which are needed to keep the bacteria off. Not only that, we also pay for the materials to keep the fragrance in such liquid preparations to keep the bad odour under check. In a place like Chennai, conserving water is undoubtedly a matter of concern too.
Krya's products include Face wash powder, Hair wash powder, Organic soapberry powder for clothes and natural dish-wash powder. The peels of Soap berry, called 'Sapindus trifoliatus' in Latin, is used by Krya for making detergents. Krya's Hair wash powders have 'Boondhi kottai' as its main ingredient and not the 'Shikakai' popularly sought by people. Their face powder is made from shrubs and herbs while the commercials soaps make the skin alkaline and also contain 'Sodium Lauryl Sulphate (SLS) which have deleterious effect on the skin. Another nice policy they adopt is that being animal lovers themselves, Krya does not test their products on them. Only certified organic ingredients are used and the products are either bio-degradable or compostable. You could find more details in their website www.krya.in and they can be contacted at 09176612023.
Kitchen Garden Workshop
Presented by Ms.Priya Gopalan and Ms.Anitha Balasubramanian, the workshop dealt with permaculture and kitchen gardening as something which can be managed at Household level itself.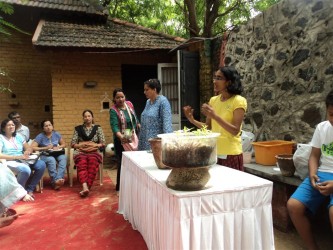 Creating soil by simple methods at household level is something possible. The demonstrators said they have established a very good model in the Adyar Cancer hospital with many volunteers in their group.
The key steps are to make a six layered stuff which will turn into soil. The bottom most layer is sticks upon which pressed-out sugarcane fibre received free from the juice vendors is placed. This is further layered with dry leaves followed by compost and finally topped with dry or green leaves. One bucket of these layers would get reduced to one fourth of organic rich soil.
River bank soil is porous but it is not nutritious and again to be avoided as it leads to exploitation of natural resources which may result in erosion.
To make a compost, kitchen waste, leaves including Tea is good but a bowl of cooked rice is not good at all. Lemon and Sweet Lime peels take a long time to decompose and are not suitable, they informed.
Some tips here – When growing Home Garden, pots should not be over-watered as it would drown the seeds. Greens like Pasalai Keerai, Peerkankai and Mint leaves are excellent for stem cutting and planting.