K.G. Kavya, had a chat with D. Subramaniam, who is one of the recipients of Dr. Radhakrishnan Award by Tamil Nadu State.
Here is an excerpt: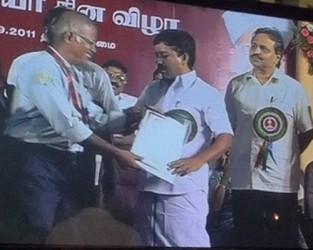 For the past how many years have you been in this profession?
I have been teaching for the past 30 years.
What subject do you take classes on?
I am a Physics teacher.
What all schools did you teach in?
I was headmaster in Nemeli Boys Hr. Sec. School, Chengalpet Girls Hr. Sec. School, Govt. Girls Hr. Sec. School and Nanganallur Govt. Boys Hr. Sec. School.
When did you become the headmaster?
I became headmaster in 2006.
How do you think your method of teaching is different from others?
I feel I have a different approach, with students and good relationship with colleagues and have improved the infrastructure of my school a lot.
Who was your inspiration?
I was inspired by my teachers, professors and my father.
What do you think about the present education system?
It needs a lot of improvement.
What do you want to tell to the future generation teachers and students?
Qualify yourself, be dedicated and be knowledgeable on latest technology and try using them in classrooms to make the subject more interesting.