N. Natha Mayil of class 7 studying in Sri Sankara Senior Secondary School is a chess champion representing Chennai for Tamil Nadu Chess Association in under 11 category.
She has been learning chess from the age of 7 and got the inspiration from her parents who initially taught her the game.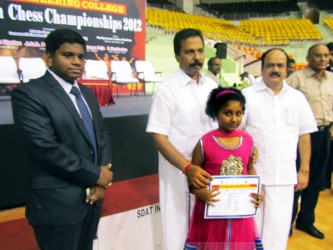 Natha Mayil prioritises her time to manage both chess and her studies well. Her parents help her by watching and analysing chess tournaments online and help her in practising different moves in Chess.
"My school is always supportive and understanding for my pursuit," says Natha Mayil. The secret behind success, she says, is hard work and determination which always pays at
the end in any field.
Natha Mayil has won many tournaments including the first prize in RMTIS Tamil Nadu junior chess tournament and TKSS children's chess tournament 2010 and 2012.
She is currently getting trained at Shakthi Chess Academy in Mylapore.Her FIDE rating is 1343.
"My role model is Hou Yifan from China since she is the youngest women's world chess champion,"  Natha Mayil smiles and moves on.