National year of Mathematics was celebrated at Ramanujan Institute for Advanced Study in Mathematics (RIASM), University of Madras, Chepauk Campus.
The event was organised by Nehru Children's  Cultural Association. Dr. V. Thangaraj, Director , RIASM, inaugurated the National year of Mathematics.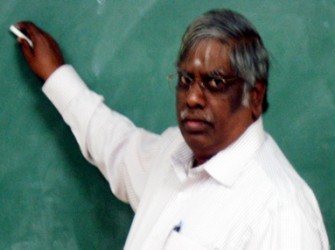 In commemoration of Mathematics genius Srinivasa Ramaujan, Anjan Debnath, a P.G. student of RIASM explained Ramanujan's contribution towards Number Theory. He also briefed about a few techniques on computing Numbers fast in addition, subtraction, multiplication and division.
Ms. K. Kalaivani, Research Scholar, RIASM presented a lecture on Properties of Ramanujan Numbers.
The valedictory of this event will be held on May 20, 2012 at 10.30 a.m.
Mr. C. Velan, ED & CEO of TRIL Infopark Ltd., Ramanujan IT City, Mr. M. Anadan, Deputy Director General (E), Doordarshan Kendra, Chennai, Mr. C. Rengarajan, General Manager, Indian Overseas Bank, T. Kripashankar, retired Secretary, LIC of India, Ms. Sasikala Sriram, Principal, Bala Vidya Mandir, Ms. A. Aruna, Principal, Sir Sivaswamy Kalalaya and Ms. Usha Varadarajan, Vice Principal, P.S. Senior Secondary School will be the special invitees at the valedictory on that day.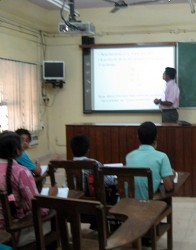 Prizes and Certificates will be distributed those who won the contest for paper presentation in Mathematics.
For more details contact : M.R. Sugumaran, President, Nehru Children's Cultural Association.
Phone no. 81444 16484. Email: ncca.ind@gmail.com