A king who dreams about jalebis, a donkey who sings through the night in the cucumber field, an alien sky monkey that creates a 'hullaballu' on Earth. These are characters that can be found in the three books written by the popular children's author Niveditha Subramaniam.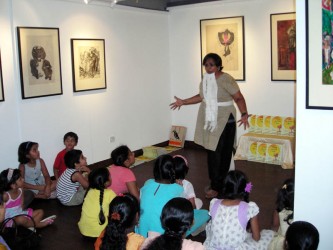 Ms. Niveditha, who is associated with Tulika, a renowned publishing house, has done a witty series of short stories called the 'Amazing Miss Shinnies' and 'Interval' in Chandamama. She has also been a part of the anthology – Water Stories.
On 24th May, Niveditha launched her latest picture book- 'The Sky monkey's Beard'. With Priyankar Gupta's whimsical pictures, this is a gently happy story that talks about a group of Sky monkeys who like nothing better than floating on clouds for hours.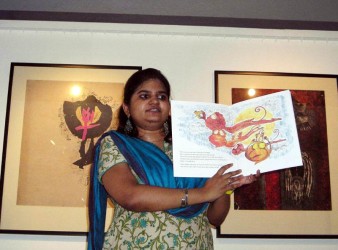 Followed by the book launch was an interesting story telling session by Jeeva Ragunath, who was dressed as a character in the story- Grandpa Monkey. Her mere presence tickled all our funny bones. Held at Ashvita, an art gallery and garden cafe on Dr. Radhakrishnan Salai in Mylapore, the book launch was a fun-filled session for all present at the venue.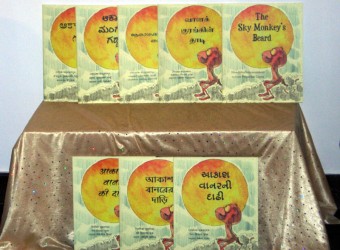 Below are excerpts of the interview with Niveditha Subramaniam, who opens up and talks to us about her childhood, interests, favourites and more.
Tell us about your childhood and parentage…
I had pop-ups and Russian picture stories as a child and poured over them in some corner of the house and these images have a way of lingering in your mind and memory and coming back years later! My grandparents, parents and family also encouraged a love for reading; aside from the books that were bought for me, my brother and I got to visit Higginbothams and Landmark and take our picks.
What was your childhood ambition? When did you actually decide your career?
I wanted to be a gymnast, actually! Nadia Comaneci was my biggest inspiration. I guess I actively knew that I wanted to write and draw them when I came to college but I think it has a lot to do with my childhood too as I told earlier.
Role Model….
Books are my biggest inspiration. I love looking at picture books especially. Interactions with people I know well as well as strangers, things that I've seen while travelling to a new place or something that I noticed while walking down a familiar street inspires me. I think through pictures and sometimes visuals get stored in my mind and sometimes
they lead to form part of a story I write.
Who is your favourite author?
Can't pick one! Among writers, I love Ursula Le Guin, Lemony Snicket, Phillip Pullman, Enid Blyton, Roald Dahl, Suniti Namjoshi and many more. I also comic books and graphic novels – Bill Watterson, Marjane Satrapi, Charles Schulz, Craig Thompson.
Which is your favourite book?
Definitely can't pick one but here are my favourites:
Sylvester and the Magic Pebble – William Steig
Opa's Engel – Jutta Bauer
His Dark Materials – Phillip Pullman
A Series of Unfortunate Events – Lemony Snicket
The "Secret" series – Enid Blyton (not to be confused with The Secret Seven)
How does it feel about your book 'Mayil Will Not Be Quiet' having had great response?
Great! Because of the encouraging response to the first book, my friend and co-author Sowmya Rajendran (who has published many books with Tulika) and I are going to be working on a sequel.
Tell us about your lastest one – 'The Sky Monkey's beard'. What is it all about? What is so special about it, according to you?
Sky monkeys like nothing better than to float above the clouds for hours… One day, a curious little sky monkey decides that she wants to fly down to earth and see what it's like and she creates a hullaballoo up in the skies! It's a whimsical story about how the very first monkey on earth came to be. I think children will like Priyankar Gupta's expressive and playful illustrations.
How do you think the response for picture books are among kids and parents today?
I didn't have any Indian picture books growing up. But, nowadays children have a wide range to choose from. Gauging by the number of parent bloggers who review children's books and other products for children, and the growing number of sites that are exclusively for children, the response is good.
How do you spin humour into a story?
Humour works best, when it's inspired by day to day things that happen to you or people that you know. When it's real, there can be intelligent and original ways of expressing it, otherwise it can often appear contrived or overdone.
What do you think about the influence of books and libraries in today's kids? Do they have some positive impact on kids? Or today's kids have long forgotten books and don't know anything else apart from computer? What do you think?
I read lots of books when I was a child, I also enjoyed video games. I think those who enjoy reading will pick up and read. If reading is encouraged at home and they have a membership at a good library, it helps, of course. And today, there are many more libraries, reading clubs and play centres that play an active role in making reading fun for children. It doesn't mean if a child watches TV or surfs on the computer that she won't pick up a book. Lots of children can do both comfortably.
What are your other interests?
Photography. I studied photojournalism and hope to make photo books for children
sometime!
Your motivating factor always is your ………..
Pictures. As I said before, I think through pictures and sometimes visuals get stored
in my mind and sometimes they lead to/form part of a story I write. And my parents,
who've always been supportive.
Your message for budding authors?
I think there's opportunity everywhere. There are a lot of people who think that writing for children is the easiest thing in the world. But children's writing is not writing for adults simplified. With such a notion, you can get nowhere. Respect your audience and understand them.
Illustrated by Priyankar Gupta, the book is available in nine languages such as English, Hindi, Tamil, Malayalam, Kannada, Telugu, Marathi, Gujarati and Bengali. The book is available for purchase at major outlets and also from Tulika's website.