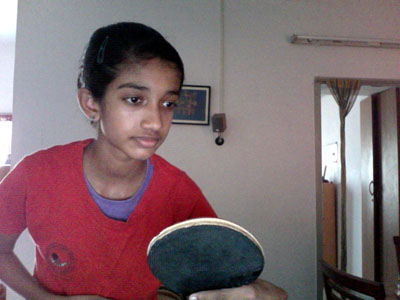 I settle down at a corner of the class to have a good conversation with Rathnawali. S of class 8D in Sri Sankara Senior Secondary School, Adyar , who reached the Pre – Quarter Finals of the State Level Tournament held at Nehru Stadium on June 10 , 11 and 12 which was sponsored by Center Court Table Tennis Club. Her friends pull us to the middle of the class , where I started asking questions.
Where do you learn Table Tennis ?
I learn Table Tennis at Ransa Table Tennis Club in R.A Puram.I went to this tournament through my club.
How many hours of practice does it require ?
The club is open from evening 5 to 8 and I play during those 3 hours for 5 days a week.
Then, how do you manage to finish your homework ?
I come home and study till 10.30 in the night. If there is too much of homework, I get up early in the morning and study.
Have you gone to levels higher than Pre – Quarter Finals ?
I have reached Semi Finals 2 times and Quarter Finals many times before.
What were you awarded to reach the Pre – Quarter Finals ?
I got Rs. 150 as a prize . But the experience was great.
How often is this tournament held ?
It depends upon the sponsors.