Hand-made jewellery, made out of paper quilling are flooding the market these days. Their mind-blowing finish and frenzy, colourful designs attract women, especially teens.
Here's Sudha Krishnakumar, a resident of Triplicane, who makes stunning quilled jewellery, to share her thoughts with us.
Quizzing her about how she got the idea to do paper quilling, she says, "It all started when my younger daughter learned quilling from a neighbour. She is too young for all this and hence, didn't get to do the rolling properly. So, I just learned by seeing her do it in order to teach her. After that, I got interested in the art and started making jhumkas, pendeats, etc."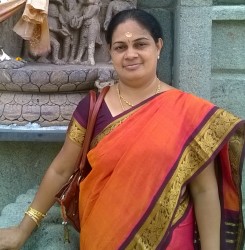 On the degree of sales and benefits, "Now-a-days, everyone wants to wear earrings that suit and match their attire. They expect a lot of different colour combinations and style. These quilled earrings are preferred by them over others mainly for this reason. They can just order the colour, style and size of the earrings and they'll get it. Hence, the sales never takes a backseat. Orders keep coming in. But, I'm just doing this for my recreation and to break the monotony as a home maker," says Sudha.
The multi-tasking home maker moves around the city to buy the materials needed for quillings. She says, "For purchasing in bulk, I go to the shops in T.Nagar, Parrys Corner or Ashok Nagar."
"As far as the making is concerned, it just involves the rolling of coloured quilling sheets, sticking them with fabric glue, decorating them, if needed and leaving them overnight to dry. It's really simple, she smiles.
She says that any sort of quilled jewellery need to be maintained carefully and are to be kept away from water as they are made of lengthy sheets of paper and are quite perishable.