Rowers Bring Laurels to AMM School
It was a proud moment for AMM SCHOOL when the school rowing team came out in flying colours by winning a gold medal in the Bengal Rowing Club International School Regatta 2007.
The event took place from July 27 to July 31, 2007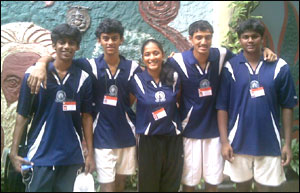 The team comprised of Nirup Suresh (stroke), K.K. Abhinav,Janeshwar Raja, Avinash (bow) and Anisha Simon (core).
They had to compete in six races before entering the grand finale, which took place in Kolkatta. They had to race international teams also like Colombo and Karachi.
The AMM team underwent rigorous training for a month practising for two hours in the morning and six hours in the evening under the guidance of James Joseph a silver medalist in the Asian Games.
On being asked about the secret of their success Janeshwar says "We were confident as we had practised well and there was very good team spirit which helped us even in adverse situations. When anyone made a mistake we motivated him and never lost our fighting spirit."
Janeshwar, Abhinav and Nirup are students of class 12.
Says Anisha, a class 11 student, "the winning moment was awesome".
Avinash has completed his schooling and has now at a college pursuing higher studies. So this was his last race representing the school and Janesh's first and so very special for both of them.
Thus the hard work, 'never say die attitude', team co-ordination and above all continuous support and encouragement from parents, teachers and friends brought laurels to AMM School.
---