A group of 15 students from PSBB KK Nagar worked with the students of Udavum Karangal, a social service organisation in June this year and continue in July too.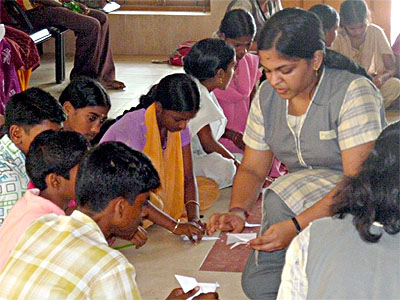 The programme, "Happy Moments" is spearheaded by Mrs.Devika Raman, a Social Science teacher of their school.
Devika Raman is an alumnus of The Teaching Excellence and Achievement Program (TEA), a program of the Bureau of Educational and Cultural Affairs of the U.S. Department of State which provides secondary-school teachers from Europe, Eurasia, South Asia, Sub-Saharan Africa, and the Western Hemisphere training and opportunities of exchange programmes to learn innovative methods of teaching.
In addition to this, the program provides grants to alumni to conduct activities for community service. Devika Raman chose to work on the all-round development of the underprivileged children of Chennai and has decided to work with the students of Udavum Karangal.
In April 2010, the student volunteers from PSBB visited the students of Udavum Karangal and distributed books, bags, uniforms among others. A dance programme for the children at Udavum Karangal was performed by the students of Sri Devi Nrithyalaya, run by the well known dance guru Sheela Unnikrishnan.
The sessions which are for children of age group 12 to 15 years include activities like English communication, storytelling, craftwork, creative writing among others. The volunteers also plan to identify each child's interest and help them to develop it.
In the first session, which was an ice breaker, the children had fun in introducing themselves, sharing their dreams and hopes, drawing, singing and dancing, learning magic tricks and origami.
The student volunteers, who enjoyed the unique experience, now look forward to spending more time with their new found friends during the next session.