A small group of like minded people joined hands recently to make a difference to the environment.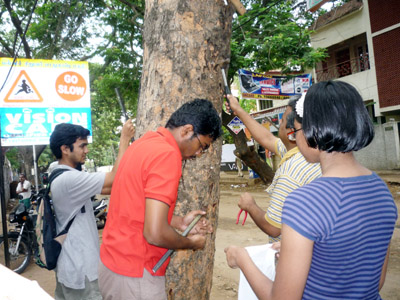 On Oct. 11, at 7 in the morning, armed with the necessary tools, a team which included kids, teens, college-goers, adults and even senior citizens, took to the job of clearing ad boards off the trees on the PSBB School road in K.K.Nagar. As the place chosen was the dropping point for PSBB School kids, each tree had at least 5 to 10 boards and 30 to 40 nails on them.
The event was spearheaded by Kasiraman, the local area co-ordinator of Nizhal, an NGO that creates awareness among people to protect plant and nurture trees. Nizhal members in and around KK Nagar initiated this first on-field activity in this part of the city.
Free the Trees Campaign motivators – Tejas and Mohan Ram began the 'action'. Till then, the Nizhal members could not arrange for a ladder. But two determined women, Binita Shashi and Soundararani, active participants of the campaign, knocked a couple of doors and managed to get a 10 feet tall ladder.
The youth wing got busy plucking nails, collecting the removed nails, pasting turmeric on holes and cleaning up the removed ad boards. They were assisted by the elders – Srimathy and Sethu Sundaram. Though it was just a 20 people team, within an hour and a half, the trees on a good section of the road were relieved of the boards and nails.
M. Mrithula, a class  IV student at PSBB (KKN) said that it was great fun to be a part of this campaign and she was happy to contribute towards the betterment of the environment.
E. Swedhaa Sri , a class VII  student, also from PSBB (KKN) said, " I got to know about this campaign from my friend who lives in Mr. Kasiraman's flat. Since I care about my environment, I decided to join the campaign."
The members also decided to contact the organisations that had put up the boards and make them aware that such acts affect the growth of the trees.
The group dispersed with a commitment to get back very soon to do more for the trees.
Nizhal's area co-ordinator Kasiraman can be reached at 93812 84722